Python Elimination Program
The South Florida Water Management District Governing Board is taking aggressive action to protect the Everglades and eliminate invasive pythons from its public lands. Starting in March 2017, the Python Elimination Program incentivizes a limited number of public-spirited individuals to kill these destructive snakes, which have become an apex predator in the Everglades. The program provides access to participants on designated SFWMD lands in Miami-Dade, Broward, Collier and Palm Beach counties.
News, Presentations and More
---
After less than 14 months, the SFWMD Python Elimination Program reached 1,000 Burmese pythons eliminated. Joined by some of the other hunters in the program, Brian Hargrove checked in the milestone snake at the SFWMD Homestead Field Station on May 22, 2018.
Python Tracker
The charts below track the ongoing progress of program participants. The charts are updated as participants turn in pythons to SFWMD staff for measurement.
Meet the Participants
Out of 1,000 applications, the District has selected 25 participants to work with land managers to implement the program. Meet some of the hunters:
Program Details
Each participant was provided with procedural instruction and field identification guides. Access has been given to SFWMD lands infested with pythons in Miami-Dade, Broward, Collier and Palm Beach counties. Participants will be paid:
A minimum wage hourly rate up to 8 hours daily. Time spent searching for pythons on SFWMD lands must be verified by a GPS tracking app installed on each participant's iOS or Android mobile device.
An additional on-the-spot payment of $50 for each python measuring up to 4 feet plus an extra $25 for each foot measured above 4 feet. In the example below, an 8-foot python would pay out $150.
An additional $200 for each eliminated python found guarding "nests" with eggs.
 
Eligibility Rules
To be eligible, participants must:
Be at least 18 years of age
Possess a valid driver's license
Possess a valid email address
Have access to an iOS or Android mobile device that allows for download and utilization of the required GPS tracking app
Consent to be tracked using the GPS tracking app
Have not been convicted of a felony or wildlife-related offense within the last five years
Consent to submit to a criminal background check
 
Frequently Asked Questions
The Program for Elimination of Pythons from SFWMD Lands is designed to incentivize members of the public to locate and remove invasive Burmese and Northern African pythons on District properties and rights-of-way in Miami-Dade, Broward, Collier and Palm Beach counties.
Pythons are non-native, invasive snakes that are established and spreading throughout South Florida. These giant constrictors pose direct threats to humans and native wildlife. Pythons cause significant impacts to native prey, such as marsh rabbits, wading birds and other warm-blooded animals. Their aggressive predation on native prey robs native predators, such as panthers, raptors, alligators and bobcats, of their primary food sources.
Participants must be over eighteen (18) years of age, possess a valid driver's license and email address, have access to a "smart" electronic mobile device, be willing to be monitored while on SFWMD lands with GPS tracking software, sign a waiver of liability and have not been convicted of a wildlife-related or felony offense within the last five (5) years. SFWMD employees may not participate in the program.
Twenty-five (25) individuals will be selected to participate.
Participants will have independent access to designated SFWMD properties over the greater portion of Miami-Dade, Broward, Collier and Palm Beach counties.
Participants will receive $8.25 per hour for up to eight (8) hours each day while actively searching for pythons on SFWMD lands. For all eliminated pythons, the District will make an additional payment per python – $50.00 for pythons measuring up to four (4) feet, and an extra $25.00 for every foot measured above four (4) feet. Total compensation is not to exceed $6,000.00. See example below:

No. Participants are required to kill pythons in the field.
Yes. Firearm use must be consistent with the terms of the Florida Fish and Wildlife Conservation Commission (FWC) permit issued to SFWMD, as well as local, state and federal regulations.
Participants will be required to download and utilize free cloud-based time and GPS tracking software on their GPS-enabled mobile device while conducting surveys. This will be the method used to verify participant's time and location while engaging in program activities on SFWMD lands.
No. Registered participants will not need a permit from the FWC.
Yes. Participants may bring up to three (3) unpaid assistants with them while engaging in program activities. Each assistant must register with the SFWMD Project Manager before being allowed to accompany participants onto SFWMD lands.
Background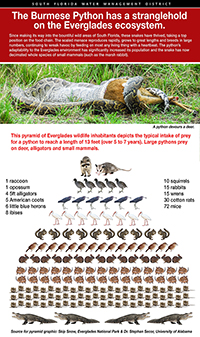 The non-native Burmese python was likely introduced to Florida's Everglades by accidental or intentional releases by pet owners. Once sought-after commodities, pythons have been sold by breeders as pets or showpieces to exotic animal collectors. Since making their way into the bountiful grounds of the Everglades, these giant constrictors have thrived, assuming a top position on the food web.
While researchers have been hard pressed to provide specific population numbers in the Everglades, a rapid number of increased sightings from 2005 to 2010 is concerning. The species was once relegated to only Everglades National Park and Miami-Dade County, but recent tracking shows pythons are moving westward into locations such as Big Cypress National Preserve and northward into Broward and Palm Beach counties.
Burmese pythons possess an insatiable appetite. They can not only kill Florida native prey species and pose a threat to humans, but also rob panthers, birds of prey, alligators and bobcats of a primary food source.
A University of Florida study published in 2015 researched invasive pythons' impact on indigenous food sources. Researchers released 95 adult marsh rabbits in areas of the Everglades known to harbor pythons. Within 11 months of the release, the study showed that pythons accounted for 77 percent of rabbit deaths, reducing prey for native predators.