Python Elimination Program
The South Florida Water Management District Governing Board is taking aggressive action to protect the Everglades and eliminate invasive pythons from its public lands. Starting in March 2017, the Python Elimination Program incentivizes a limited number of public-spirited individuals to humanely euthanize these destructive snakes, which have become an apex predator in the Everglades. The program provides access to python removal agents on designated SFWMD lands in Miami-Dade, Broward, Collier, Hendry and Palm Beach counties.
 
No Longer Accepting New Applications 
The program is no longer accepting applications for new python removal agents.  All submitted applications will be kept on file and reviewed whenever positions become available. More information on program eligibility and requirements are available in the "Program Details" and "Frequently Asked Questions" sections below.  Thank you for your interest.
Python Tracker
The charts below track the ongoing progress of program python removal agents. The charts are updated as python removal agents turn in pythons to SFWMD staff for measurement.
Program Details
Each python removal agent was provided with procedural instruction and field identification guides. Access has been given to SFWMD lands in Miami-Dade, Broward, Collier and Palm Beach counties. Python removal agents will be paid:
A minimum wage hourly rate up to 10 hours daily. Time spent searching for pythons on SFWMD lands must be verified by a GPS tracking app installed on each python removal agent's iOS or Android mobile device.
An additional incentive payment of $50 for each python measuring up to 4 feet plus an extra $25 for each foot measured above 4 feet. In the example below, an 8-foot python would pay out $150.
An additional $200 for each eliminated python found guarding "nests" with eggs.
 
Frequently Asked Questions
Background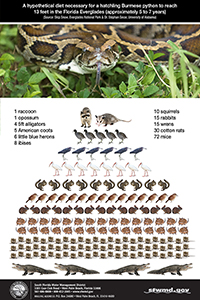 The non-native Burmese python was likely introduced to Florida's Everglades by accidental or intentional releases by pet owners. Once sought-after commodities, pythons have been sold by breeders as pets or showpieces to exotic animal collectors. Since making their way into the bountiful grounds of the Everglades, these giant constrictors have thrived, assuming a top position on the food web.
While researchers have been hard pressed to provide specific population numbers in the Everglades, a rapid number of increased sightings from 2005 to 2010 is concerning. The species was once relegated to only Everglades National Park and Miami-Dade County, but recent tracking shows pythons are moving westward into locations such as Big Cypress National Preserve and northward into Broward and Palm Beach counties.
Burmese pythons possess an insatiable appetite. They can not only kill Florida native prey species and pose a threat to humans, but also rob panthers, birds of prey, alligators and bobcats of a primary food source.
A University of Florida study published in 2015 researched invasive pythons' impact on indigenous food sources. Researchers released 95 adult marsh rabbits in areas of the Everglades known to harbor pythons. Within 11 months of the release, the study showed that pythons accounted for 77 percent of rabbit deaths, reducing prey for native predators.