DYK: Invasive Species Awareness Week Highlights Importance of Protecting Public Lands and Removing Destructive Pythons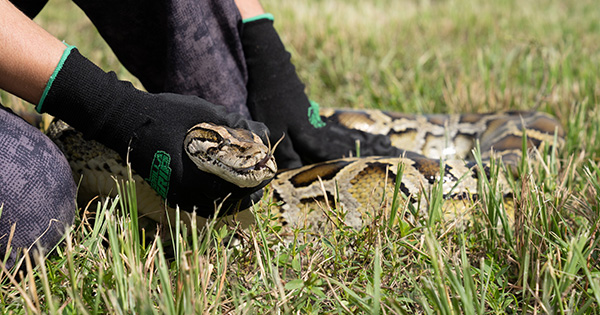 Burmese pythons, Melaleuca, Brazilian pepper trees, and other harmful invasive species can damage critical habitat, harm native wildlife and alter the ecology of our natural systems. Did you know the South Florida Water Management District (SFWMD) is taking aggressive action to protect nearly 1.5 million acres of public land, natural areas, canals and levees from these persistent pests?
In recognition of National Invasive Species Awareness Week, we are highlighting the District's ongoing efforts to reduce invasive species and ensure our continued ability to successfully restore and manage South Florida's ecosystems.
Pythons are one of the most harmful invasive species in the Greater Everglades, preying upon native birds, mammals and even alligators. By safely capturing and eliminating these destructive snakes, we can protect native wildlife and support the natural ecology of the region.
The SFWMD in partnership with the Florida Fish and Wildlife Conservation Commission started the world-famous Python Elimination Program. Since the program's inception in 2017, over 10,000 pythons have been eliminated from South Florida's landscape!
Invasive plants are also harmful to South Florida's ecosystems, resulting in loss of habitat, alteration of hydrology, changes in natural fire conditions and degradation of public use areas. Melaleuca and Brazilian pepper, as well as floating and submerged aquatic vegetation, can impact our restoration goals if they are not managed properly. 
Invasive plants such as hydrilla, water lettuce and hyacinth impede SFWMD's ability to provide flood protection to the region's 9 million residents by clogging waterways and damaging infrastructure.
The District uses a variety of methods to manage public lands:
Prescribed burns - Support the native ecology and reduce the risk of uncontrolled wildfires.
Natural Resources Monitoring - Vegetation analyses, wildlife surveys and panoramic photo monitoring.
Exotic Plant Control - Stopping the spread of harmful exotic plants is important when it comes to protecting our native wildlife and plant species. Integrated Pest Management, a scientifically-based approach, is used to knock back invasive plants.
Roughly 200 non-native plant and animal species are established in South Florida -- more than any other area in the United States. The SFWMD is working year-round to prevent, control and manage invasive plants and animals on District-owned lands.
Learn more about the importance of removing invasive species from across South Florida's landscape.