Discovery is a lifelong journey. Whether you are a student, teacher or simply want to know more about the environment, the South Florida Water Management District has materials and programs to help you learn about Florida's shared water resources.
 
SFWMD Educational Programs and Materials
The fun and informative materials listed below are useful for teachers to complement environmental education lesson plans as well as students of all ages.
LILA: An Everglades Living Laboratory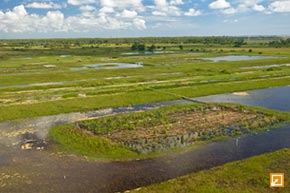 The science behind Everglades restoration finds researchers busy at a unique outdoor laboratory: the Loxahatchee Impoundment Landscape Assessment (LILA) in Boynton Beach.
LILA is a working, 80-acre model of the Everglades ecosystem within the Arthur R. Marshall Loxahatchee National Wildlife Refuge. This "living laboratory" gives scientists opportunities to apply restoration techniques on a small, controlled scale before implementation in the 1.7 million-acre Everglades ecosystem.
LILA is located on the birding trail where visitors can watch a wide variety of native wading birds and other wildlife at the same time scientists are collecting and analyzing data that will ultimately be used to restore Florida's precious Everglades.
English and Spanish Poster Focusing on How Water is Managed
Managing Every Drop [PDF]
Estación Húmeda, Estación Seca – Administrando Cada Gota [PDF]
This poster illustrates how water is managed throughout the year, to minimize flooding and maximize storage while preserving water quality and natural environments.
 
Indepth Look at South Florida's Water
Florida Waters Resource Manual [PDF]
SFWMD Education on Public Lands

Our field study programs connect water resource and environmental education with land management activities. The programs partner public lands we manage with local schools to provide outdoor learning activities for students.
Corkscrew Regional Ecosystem Watershed (CREW) – Lee and Collier County
The 7,000-acre Corkscrew Marsh is the headwaters for the Corkscrew Regional Ecosystem Watershed (CREW). The District partners with the CREW Land and Water Trust to offer educational programs and recreational opportunities.
DuPuis Management Area – Martin County
The DuPuis Management Area is a 21,875-acre multi-use natural area. The District partners with the Center for Environmental Studies at Florida Atlantic University to conduct events, lecture series and other educational opportunities at the onsite environmental education facility.
Reedy Creek, Osceola Environmental Studies Center – Osceola County
Reedy Creek connects Lake Russell to Cypress Lake and Lake Hatchineha. A riverine cypress swamp provides hands-on environmental education and an interpretive center.
Other Educational Resources: Posters, Publications & Websites from Other Agencies