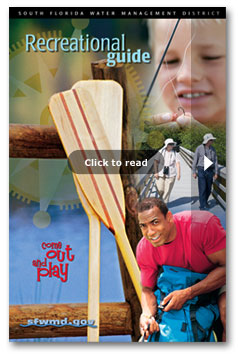 Hiking, fishing, camping, bird-watching, horseback riding, nature study, cycling, hunting, geocaching, stargazing – what's your pleasure?
The South Florida Water Management District is the steward for more than 1 million acres of public land. Over the years, we've taken great strides to expand public recreational opportunities on land purchased with public dollars – and it keeps getting better.
Each year we take steps to enhance and expand recreational use of all District-owned property throughout our 16-county region. Activities at each location are compatible with natural resources protection and intended land use priorities.
We invite you to explore recreational opportunities on your public lands. Our colorful, 117-page recreation guide is packed with information. You'll find a comprehensive listing of lands available for public use and access – as well as maps, descriptions, suggested outings, driving directions and contact information for each location.
Recreational Licenses and Permits
Special Use License
In certain instances, a no-cost Special Use License, issued by the South Florida Water Management District, may be required for vehicle access to SFWMD lands with locked gates or for some activities, such as camping or horseback riding.
To apply for a Special Use License online, click here for the application form.

(NOTE: A user name and password will be required to apply for a license. Directions on how to register are posted in the link above.)
Related Links:
Hunting & Fishing Licenses
Most recreational activities on District lands are managed by agencies such as the Florida Fish & Wildlife Conservation Commission or other state, federal, county or city governments in partnership with the South Florida Water Management District. Most licenses for hunting or fishing must be obtained from the Florida Fish & Wildlife Conservation Commission (FWC).
Closures and Notices
Effective June 25, 2018, public access to the L-67A Levee and the banks of the C-304 Canal at the S-151 Structure will be temporarily closed for construction. The work is expected to be completed by May 2019. more »
 
The Bird Rookery Swamp Boardwalk/Trail will be closed for construction activities beginning May 21, 2018. The trail and boardwalk will reopen once the construction is complete in two to three weeks.
 
Jan. 29, 2018: SFWMD has started a multi-year culvert replacement project along the L-8 Canal on the levee adjacent to the DuPuis Management Area. Due to construction, the entire L-8 levee adjacent to the southwest portion of DuPuis is currently closed to all public use until further notice.
 
The S-65C boat ramp and camping area is closed permanently due to ongoing construction of the Kissimmee River Restoration Project. Boating access to the Kissimmee River is available at the Istokpoga Canal Boat Ramp Area and the S-65D Lock Boat Ramp. Camping is available in a variety of areas along the Kissimmee River, including the Istokpoga Canal Boat Ramp Area and Hickory Hammock Management Area.