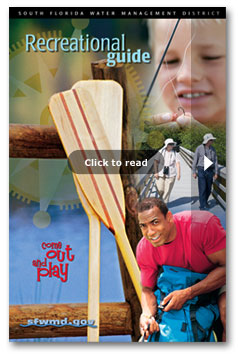 Hiking, fishing, camping, bird-watching, horseback riding, nature study, cycling, hunting, geocaching, stargazing – what's your pleasure?
The South Florida Water Management District is the steward for more than 1 million acres of public land. Over the years, we've taken great strides to expand public recreational opportunities on land purchased with public dollars – and it keeps getting better.
Each year we take steps to enhance and expand recreational use of all District-owned property throughout our 16-county region. Activities at each location are compatible with natural resources protection and intended land use priorities.
We invite you to explore recreational opportunities on your public lands. Our colorful, 117-page recreation guide is packed with information. You'll find a comprehensive listing of lands available for public use and access – as well as maps, descriptions, suggested outings, driving directions and contact information for each location.
SFWMD Recreational Public Forum
The SFWMD Recreational Public Forum is held three times a year. For further details click on the schedule below. Meetings are open to the public.
Special Use Licenses - Camping
Special Use License    
In certain instances, a no-cost Special Use License, issued by the South Florida Water Management District, may be required for vehicle access to SFWMD lands with locked gates or for some activities, such as camping or horseback riding.
Prescribed Burn Notification
Sign up to receive email and text message notifications for prescribed burns happening in your area.     
Related Links:
Hunting & Fishing Licenses
Most recreational activities on District lands are managed by agencies such as the Florida Fish & Wildlife Conservation Commission or other state, federal, county or city governments in partnership with the South Florida Water Management District. Most licenses for hunting or fishing must be obtained from the Florida Fish & Wildlife Conservation Commission (FWC).
To obtain hunting and fishing license, contact the Florida Fish and Wildlife Conservation Commission.
Closures and Notices  
Posted 03/08/2023: The public access gate and bridge along US 27 to STA 2 and the L-6 Levee (Sportsman's Crossover Boat Ramp) is temporarily closed due to extensive construction activities.
 
Ongoing: A portion of the 8.5 SMA L357W levee located in Miami-Dade County is closed to the public until December 2024. For more information, click HERE.
 
Ongoing: Due to construction that is taking place for the C-139 Flow Equalization Basin project, the public access route to Stormwater Treatment Area 5 has been rerouted from Deer Fence Rd. to Blumberg Rd. Directions to Blumber Road public access. 
 
Ongoing: The SW levee and the NW levee at the A1 FEB in Palm Beach County are currently closed. The SW levee is scheduled to be open by the end of 2023. Please check back for updates.