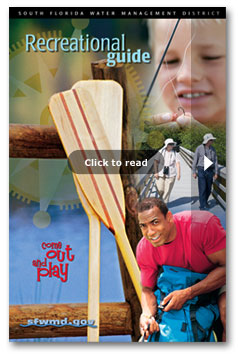 Hiking, fishing, camping, bird-watching, horseback riding, nature study, cycling, hunting, geocaching, stargazing – what's your pleasure?
The South Florida Water Management District is the steward for more than 1 million acres of public land. Over the years, we've taken great strides to expand public recreational opportunities on land purchased with public dollars – and it keeps getting better.
Each year we take steps to enhance and expand recreational use of all District-owned property throughout our 16-county region. Activities at each location are compatible with natural resources protection and intended land use priorities.
We invite you to explore recreational opportunities on your public lands. Our colorful, 117-page recreation guide is packed with information. You'll find a comprehensive listing of lands available for public use and access – as well as maps, descriptions, suggested outings, driving directions and contact information for each location.
Recreational Licenses and Permits
Special Use License
In certain instances, a no-cost Special Use License, issued by the South Florida Water Management District, may be required for vehicle access to SFWMD lands with locked gates or for some activities, such as camping or horseback riding.
To apply for a Special Use License online, click here for the application form.

(NOTE: A user name and password will be required to apply for a license. Directions on how to register are posted in the link above.)
Related Links:
Hunting & Fishing Licenses
Most recreational activities on District lands are managed by agencies such as the Florida Fish & Wildlife Conservation Commission or other state, federal, county or city governments in partnership with the South Florida Water Management District. Most licenses for hunting or fishing must be obtained from the Florida Fish & Wildlife Conservation Commission (FWC).
Closures and Notices
Posted Jan. 15,2020: The SFWMD is installing a temporary earthen test plug in the L-38W Canal, approximately 2.6 miles downstream of the S-150 structure and Palm Beach/Broward County line. Construction will last approximately two weeks and is expected to be completed by the end of January 2020. More >>
 
Posted Jan. 6, 2020: As a result of construction, navigation is being restricted along approximately 10 miles of the lower Kissimmee River by The U.S. Army Corps of Engineers Jacksonville District. Barriers have been placed at closed segments of the Kissimmee River, with construction expected to be completed within the next 12 months. More >>
 
Stormwater Treatment Area 1 East (STA-1E) in western Palm Beach County will be temporarily closed to public access and recreation starting Monday, Nov. 4, 2019 due to ongoing environmental restoration construction work. STA-1E will be reopened to public access as soon as possible.
 
Posted Aug. 22, 2019: Changes made at DuPuis Equestrian Campground Gate 3 in 2019: The DuPuis Equestrian Campground has been separated into two campgrounds; equestrian and non-equestrian. Anyone wishing to camp in the equestrian portion of the campground must have a minimum of one horse per Special Use License. All other campers may camp in the non-equestrian camping area. Similar to other District campgrounds, the main gate at the DuPuis Equestrian Campground will be locked at all times and require a Special Use License for day use, equestrian camping, and non-equestrian camping. Up to two dogs (pets) are permitted per Special Use License within the campground, otherwise pet rules remain the same within the rest of the area. more »
 
News Release April 25, 2019: SFWMD Expanding Access at the A-1 Flow Equalization Basin for Public Recreation
 
Effective Sept. 14, 2018: As a result of construction, public access to Stormwater Treatment Area (STA) 5/6 is temporarily being relocated to Blumberg Road. Construction activities will also result in the Florida National Scenic Trail being temporarily rerouted from the western boundary of the STA to the eastern boundary. For detailed information, visit the STA-5/6 recreation page.
 
Effective June 25, 2018: Public access to the L-67A Levee and the banks of the C-304 Canal at the S-151 Structure will be temporarily closed for construction. The work is expected to be completed by May 2019. More »
 
Effective June 22, 2018: SFWMD will temporarily close two of the four boat ramps located at Loxahatchee Road on the southern border of the Arthur R. Marshall Loxahatchee National Wildlife Refuge and the western part of the parking lot. The remaining two boat ramps will stay open for access. The closures are required as a result of the installation of two temporary pumps just west of the S-39 structure. More »
 
Effective Jan. 29, 2018: SFWMD has started a multi-year culvert replacement project along the L-8 Canal on the levee adjacent to the DuPuis Management Area. Due to construction, the entire L-8 levee adjacent to the southwest portion of DuPuis is currently closed to all public use until further notice.