Addressing Blue-Green Algal Blooms 
Under the leadership of Governor Ron DeSantis, the State of Florida is taking an all hands on deck approach to address critical blue-green algal blooms and improve water quality in South Florida. The South Florida Water Management District, along with the Florida Department of Environmental Protection, is committed to improving South Florida's waterways and protecting our natural resources.  
Less than 48 hours after taking office, Governor DeSantis signed Executive Order 19-12 initiating major water quality reforms, expediting ecosystem restoration projects, and responding to blue-green algal blooms. Florida will continue to expedite long-term efforts that address the root causes of harmful algal blooms, and we will also take action now to tackle toxic algal blooms that impact people and our environment.
We are using science-based mitigation and deploying a range of innovative technologies to address blue-green algae associated with Lake Okeechobee and the Central & Southern Florida Project Flood Protection System. We are also actively monitoring key South Florida waterbodies including Lake Okeechobee, the St. Lucie River (C-44), Caloosahatchee River (C-43), and the Lake Worth Lagoon.  
Immediate Response and  Algal Bloom Mitigation Efforts   
It's critical that state agencies address Harmful Algal Blooms that pose a significant threat to public health. By addressing Harmful Algal Blooms now, we better position our natural systems to recover more quickly from the impacts of toxic algae.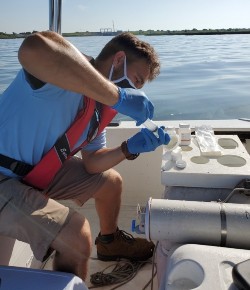 Enhancing water quality monitoring efforts to better identify harmful algal blooms.
Addressing blue-green algal blooms requires action and Florida is piloting several solutions including specialized technologies and algae-removing products. We're researching and piloting various tools including:  

Hydrogen peroxide-based products that target harmful toxic cyanobacteria but do not significantly negatively impact beneficial algaes, wildlife, or the environment.
Ultrasonic devices, and  
Advanced filtration technologies that separate algae from the water. 
Not every innovative solution works in every circumstance, and all solutions are subject to extensive environmental monitoring to reduce the likelihood of negative water and wildlife impacts. SFWMD follows the manufacturer's recommendation to reduce the risk of impacts to wildlife and non-target species. Products and solutions are approved by several state and federal agencies, and all efforts to neutralize toxic algae are completed under appropriate state and federal environmental and wildlife permits. There are no restrictions for the public associated with the on-going treatment activities. 
Long Term Solutions to Address the Root Causes of Harmful Algae
Governor DeSantis prioritized water quality and Everglades restoration funding in his Executive Order 19-12, signed on his second day in office. Florida needs long-term solutions to the water quality challenges we face, and the state has invested more than $2 billion in projects and efforts to improve our region's water quality in the last three years including many Everglades restoration projects such as the EAA Reservoir Project. Read more about current Everglades restoration projects.   
The District also dramatically expanded our water quality monitoring to better identify where there are problems and is working with state officials and communities to implement additional solutions.   
Things You Can Do to Help Improve Water Quality   
Everyday people can also help improve water quality. Here are few tips residents can follow:  
Fertilize responsibly – The use of excess fertilizer results in pollutants contaminating the waterways in stormwater runoff when it rains. Don't use fertilizers and pesticides during the warmer months and use them in the correct amounts during other times of the year.   
If your home has a septic tank, have it serviced and inspected regularly. The best option is to have your home hooked up a public sewer system.   
Pick up after your pets. Pet waste can add nutrient pollution to our waterways.  
Prevent soil erosion - Soil erosion allows sediments to drain into nearby surface waters. Eroded sediment can have high levels of phosphorus. Controlling erosion and sediments prevent surface water quality problems and helps retain the property's topsoil.  
Use Florida-Friendly Landscaping in your yard.   
Debris and trash in stormwater drains can interfere with flood prevention as well as decrease water quality. Make sure nearby storm drains are free of debris.
Innovative Technology for Harmful Algal Bloom Management Grants 
Through the Florida Department of Environmental Protection, our state continues exploring new ideas and solutions to improve water quality and mitigate algal blooms. Interested vendors can learn more about submitting their proposals and technologies to the State of Florida on ProtectingFloridaTogether.gov.  
FAQ's about Blue-Green Algae  
What is Blue-Green Algae?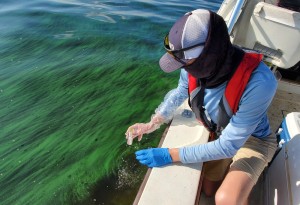 Blue-green algae, sometimes called cyanobacteria, can occur in lakes, rivers and estuaries. Blooms can look like foam, scum, or mats on the surface of the water. Blooms are fueled by excess nutrient pollution and are often found in places with poor movement of water including boat slips, private canals and other places with poor water flow.  
Living blue-green algae start out as green in color and turn blue after the algae die and dry on the surface or shoreline. As algal blooms die, they may release a bad odor. It can smell like rotten eggs. If you are irritated by the strong odor or have breathing difficulties move away from the source of the smell. Please follow all orders by your county's Health Department regarding blue-green algae.     
What causes an algal bloom?  
Nutrients like nitrogen and phosphorus exacerbate the extent, duration and intensity of algal blooms. Other factors that contribute to blooms include warm temperatures and reduced water flow. Although they can occur at any time, blue-green algae are most common in Florida during the summer and early fall, with high temperatures and abundant sunlight. The summer also brings storms that have the potential to deliver additional nutrient pollution into waterways through stormwater runoff. 
Are algal blooms predictable?  
The nature of most algal bloom events makes it difficult to predict where and when a bloom will occur or how long it will last. However, lessening the negative effects of algal blooms is possible through restoration efforts to improve water quality. Sometimes blooms appear in a matter of hours and can be naturally dissipated within a matter of hours.
Can you identify an algal type or if it is producing toxins by looking at it?  
No, this is why the South Florida Water Management District coordinates with the Florida Department of Environmental Protection to quickly sample reported algal blooms and test for algal identification and toxicity.
How often do you collect samples?   
The Department of Environmental Protection and the South Florida Water Management District collect samples when algal blooms are observed during their routine water quality monitoring and when blooms are reported by the public. The Florida Fish and Wildlife Conservation Commission also samples nearshore marine waters. To view sampling results, visit Florida's algal bloom dashboard at FloridaDEP.gov/AlgalBloom.   
Where do I report an algal bloom and get the latest information about water quality?
Report algal blooms and find current information about Florida's water quality status and public health notifications for harmful algal blooms and beach conditions by visiting ProtectingFloridaTogether.gov. Protecting Florida Together is the state's joint effort to provide water quality information through transparency and a strong commitment to action.