Restoration Strategies for Clean Water for the Everglades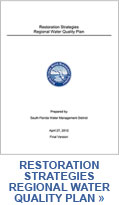 The State of Florida and the U.S. Environmental Protection Agency reached a consensus on new strategies for improving water quality in America's Everglades. Based on months of scientific and technical discussions, these strategies will expand water quality improvement projects to achieve the phosphorus water quality standard established for the Everglades.
Under these strategies, the South Florida Water Management District is implementing a technical plan to complete several projects that will create more than 6,500 acres of new stormwater treatment areas (STAs) and 116,000 acre-feet of additional water storage through construction of flow equalization basins (FEBs). Flow equalization basins provide a more steady flow of water to the STAs, helping to maintain desired water levels needed to achieve optimal water quality treatment performance.
A flow equalization basin (FEB) is a constructed storage feature used to capture and store peak stormwater flows. Water managers can move water from FEBs into STAs at a steady rate to optimize STA performance and achieve water quality improvement targets.
The strategies also include additional source controls – where pollution is reduced at the source – in areas of the eastern Everglades Agricultural Area where phosphorus levels in stormwater runoff have been historically higher. In addition, a robust science plan will ensure continued research and monitoring to improve and optimize the performance of water quality treatment technologies.
 
Current Projects
Construction of the treatment, storage and conveyance improvement projects in the Restoration Strategies Regional Water Quality Plan will be complete by 2025. Several projects are already operational, and many others are underway.
What is phosphorus?
Although it is a vital nutrient in all natural systems, phosphorus is also a fertilizer component. It flows across the landscape in stormwater runoff (urban and agriculture), harming natural areas by promoting algae growth and an overabundance of non-native plants, crowding out natural vegetation and disrupting food sources and habitats used by native wildlife. The Everglades is naturally a low-nutrient system. Even small amounts of additional nutrients can upset the ecological balance needed by the native plants and animals in the historic "River of Grass."
Source Controls
The objective of Restoration Strategies subregional source control projects is to build upon the success of the District's existing Works of the District Best Management Practices (BMPs) Program by focusing on projects with the greatest potential to further improve water quality in the eastern Everglades Agricultural Area, specifically in the S-5A basin, thereby reducing phosphorus loads to the STAs. Subregional source control projects within the S-5A basin are being considered based on a combination of factors, including water quality of their discharges, proximity and potential impact to the STAs, potential positive impact to the Arthur R. Marshall Loxahatchee National Wildlife Refuge (also known as Water Conservation Area 1) and having willing local participants.
A demonstration project within the East Beach Water Control District (EBWCD), located in the northwest portion of the S-5A basin, was implemented to build upon promising preliminary results of comprehensive canal management research conducted by the University of Florida. The project purpose was to evaluate the water quality of canals with both typical canal cleaning practices and more intensive canal cleaning practices.
Review of available pre- and post-project data indicates that it may be difficult to assess the canal cleaning project's water quality benefits. Factors confounding the evaluation include the effect of varying hydrologic conditions on phosphorus concentration and load and the need for a more robust baseline data set. Nevertheless, available data suggest a lesser incidence of particulate phosphorus peak concentrations after the more intensive canal cleaning practices began. A technical memorandum consolidating data with respect to water quality and flow trends from the EBWCD and recent canal cleaning project efforts was completed. Continued water quality monitoring together with long-term tracking of canal cleaning activities within EBWCD are necessary to capture the long-term water quality benefits of the project.
The consolidation of historical information is an essential element for project formulation and consultation with stakeholders. Accordingly, S-5A basin flow, phosphorus load and phosphorus concentration data were evaluated and documented in a technical memorandum. Data sets included the S-5A basin boundary structures and G-341 (the Ocean Canal divide structure), monitoring stations within the West Palm Beach Canal and permitted sub-basins discharging into the West Palm Beach and Ocean canals. Data sets were evaluated to quantify apparent trends and variation in the data, wet and dry seasons, pre- and post-BMP implementation and pre- and post-diversion of EBWCD discharges from Lake Okeechobee to the STAs. These analyses also evaluated the portion of dissolved and particulate phosphorus fractions in S-5A basin inflows, S-5A basin outflows and runoff generated within the S-5A basin.
The analyses indicate that phosphorus levels in S-5A basin runoff have improved historically and particulate phosphorus is the predominant fraction in Lake Okeechobee inflows to the S-5A basin, while dissolved phosphorus is higher in S-5A basin outflows. The analysis also shed light on phosphorus transport and cycling in the West Palm Beach Canal during different conditions, including Lake Okeechobee pass-through events. Findings document lower phosphorus concentrations in the southern portion of the West Palm Beach Canal, as compared to the northern portion of the canal.
Background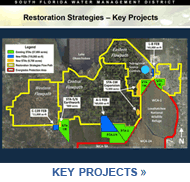 The technical plan is part of a revised National Pollutant Discharge Elimination System (NPDES) permit issued by the Florida Department of Environmental Protection and approved by the U.S. Environmental Protection Agency for operation of the District's network of Stormwater Treatment Areas south of Lake Okeechobee. The NPDES permit – along with a new state-issued Everglades Forever Act permit – establishes stringent phosphorus limits for water discharged into the Everglades.
Construction of new treatment and storage projects identified in the technical plan will build on the State's significant progress to protect the Everglades. To date, the State of Florida has invested more than $2.5 billion toward improving water quality in the "River of Grass."
Key water quality improvements to date include:
Operation of five Everglades STAs with an effective treatment area of 57,000 acres. In Water Year 2017, these constructed wetlands treated more than 1.1 million acre-feet of water bound for the Everglades, reducing phosphorus loads by 84 percent.
 
Implementation of improved farming methods, known as Best Management Practices (BMPs), on 470,000 acres of agricultural lands south of Lake Okeechobee. Over the BMP program's 20-year history in the Everglades Agricultural Area, the average phosphorus reduction is more than twice the amount required by Florida's Everglades Forever Act.