Upper Kissimmee Basin (CFWI) Water Supply Plan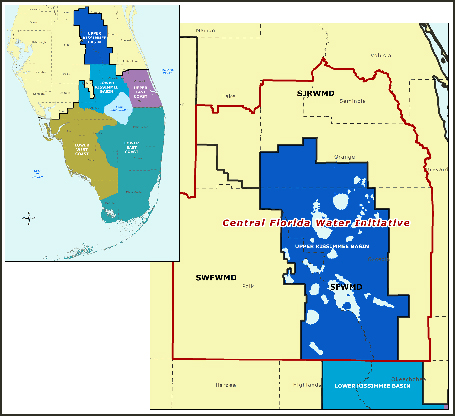 The Upper Kissimmee Basin Water Supply Planning Area includes portions of Orange, Osceola and Polk counties and is within the boundaries of the Central Florida Water Initiative (CFWI), where the South Florida, St. Johns River and Southwest Florida water management districts meet. The CFWI includes Orange, Osceola, Seminole, Polk and southern Lake counties. Together, the water management districts worked with utilities, county and state agencies and other stakeholders to develop a single regional water supply plan for this area to implement effective and consistent water resource planning, development and management. In November 2020, the governing boards of the three water management districts each approved the 2020 CFWI Regional Water Supply Plan and associated appendices.
Based on a planning horizon through 2040, the CFWI planning effort assesses projected water demands and identifies water conservation measures and water supply and resource development project options. This plan will be used by local governments, water users and utilities to update and modify local comprehensive plans, facility work plans and ordinances.
CENTRAL FLORIDA WATER INITIATIVE        
Related Contacts
For technical questions or more information on the Central Florida Water Initiative: