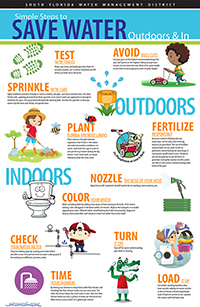 South Florida is one of the wettest areas of the country that typically gets about 53 inches of rainfall a year. Approximately 90 percent of the water used in homes and businesses comes from groundwater sources called aquifers. The remaining 10 percent comes from surface waters such as lakes, community ponds and rivers. Both surface and groundwater supplies are primarily recharged by rainfall.
Even with our typical abundant annual rainfall, South Florida's weather can quickly change from deluge to drought. That's why conserving water year round is an integral part of managing and protecting South Florida's water supplies today and for our future generations.
By 2025, 6 million new residents are projected to make Florida their home, swelling the population to more than 24 million. More than half of the new residents will settle in South Florida. At the same time, South Florida's demand for freshwater is projected to increase to 4.3 billion gallons per day – a 22 percent increase over today's use.
 
Water Conservation Programs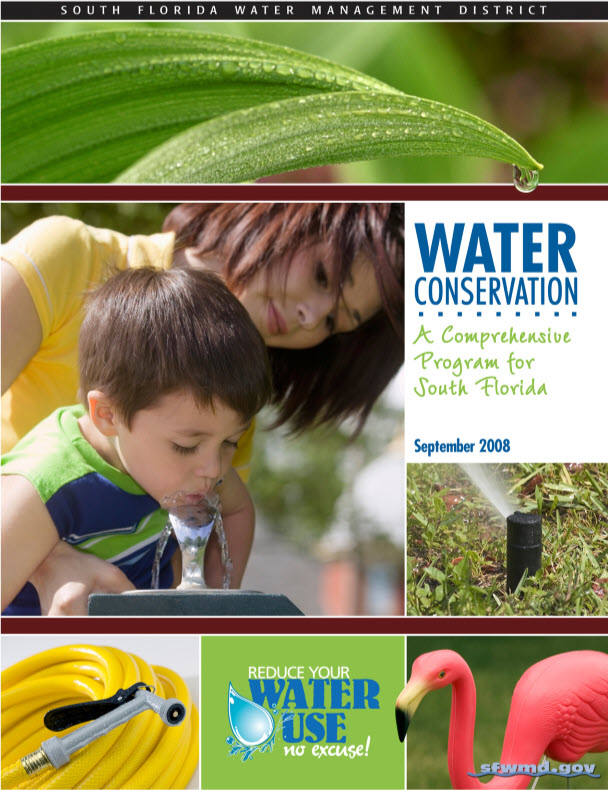 The District's Comprehensive Water Conservation Plan includes voluntary and incentive-based initiatives, regulatory work, education and outreach. The amount of water used by the region's 8.7 million residents has fallen from near 180 gallons of water per person per day in 2000 to about 140 gallons in 2014. Other SFWMD actions include:
The SFWMD also supports many water-saving initiatives:
Through the Water Savings Incentive Program, the District invested $250,000 in nine local projects in 2015 that saved an estimated 86 million gallons of water per year. This program has helped local communities save water for more than a decade, investing $5.1 million in 181 projects that save nearly 3 billion gallons of water per year.
The District also administers the Florida Water Star program. The Florida Water Star program is a water conservation certification program for new and existing homes and commercial developments. Standards and guidelines for water efficiency are included for:

Indoor fixtures and appliances
Landscape design
Irrigation systems

Florida Water Star and FNGLA provide two types of accreditation: Florida Water Star Accredited Irrigation Professional and Florida Water Star Accredited Landscape Professional. Accreditation is available for landscape and irrigation professionals, and licensed landscape architects interested in water efficient landscape and irrigation design and installation. For more on becoming a Florida Water Star AP, visit floridawaterstar.com/professionals.html
With the voluntary WaterCHAMP program, 98 hotels in 13 municipalities have installed water conservation devices or made changes in linen service covering nearly 8,000 rooms. The water savings can average 20 gallons per night per occupied room.
SFWMD also follows the Year-Round Landscape Irrigation Rule that targets outdoor irrigation, which can account for up to half of the residential water use in South Florida.
SFWMD also conducted the Golf Course Survey on Water Conservation 2019 with the St. Johns River Water Management District, in collaboration with the Florida Golf Course Superintendents Association. The study aimed to identify effective water conservation and irrigation practices on Florida's golf courses, as well as develop a baseline to measure the success of water conservation programs in the state. 
Basic water conservation practices include:
Replacing aerators in kitchen and bathroom sinks with models rated for 1.5 gallons per minute or less
Watering the lawn based on its actual needs and following the District's year-round landscape irrigation water conservation measures and/or local ordinances
Installing low-flow appliances, such as a dishwasher
Installing low-flow water fixtures, such as showerheads
Implementing many more easy water conservation practices found in our Water Conservation Publications
 
HOW MUCH WATER DO YOU USE EACH DAY? COMPUTE YOUR WATER USE
Click here to Compute Your Water Use with our Water Conservation Calculator