South Florida is one of the wettest areas of the country that typically gets about 53 inches of rainfall a year. Even with our abundant annual rainfall, South Florida's weather can quickly change from deluge to drought. That's why conserving water year-round is an integral part of managing and protecting South Florida's water supplies for today and for our future generations.
More than 3.5 billion gallons of water are used every day in central and southern Florida by 9 million residents and visitors – for drinking and bathing, watering our lawns, growing our crops and servicing our industries. Future water needs are projected to increase to approximately 4.1 billion gallons per day by 2040. One of the most effective ways to address this challenge is through water conservation.
Water Conservation Programs
The District's Comprehensive Water Conservation Program (CWCP) is a combination of voluntary and incentive-based initiatives, regulatory work, and education. As a result of passive measures, such as efficiency improvements in water using appliances, and the implementation of action items from the CWCP, the amount of water used by the region's 9 million residents has fallen from near 180 gallons of water per person per day in 2000, to about 128 gallons in 2020. Programs and initiatives from the CWCP include:
Resources for Local Governments
To assist local governments educate their residents and businesses on their allowable irrigation times, the District has created the following items.
Download these assets for free by clicking HERE. 
Please Note: The door hangers and the local government fact sheets can be customized with your county/municipal logo.
When printing the door hangers, please use Card Stock, 4-1/4" x 11", 2 Per Card
Basic water conservation practices include:
Watering your lawn based on its actual needs and following the District's year-round landscape irrigation water conservation measures and/or local ordinances
Installing water efficient, ENERGY STAR labeled appliances,
Installing WaterSense labeled high-efficiency water fixtures, such as showerheads, toilets, and kitchen and bathroom faucet aerators.
Implementing many more easy water conservation practices found in our Water Conservation Publications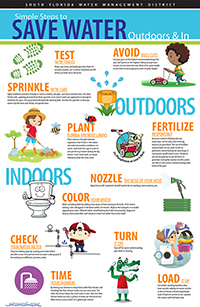 HOW MUCH WATER DO YOU USE EACH DAY? COMPUTE YOUR WATER USE
Click here to Compute Your Water Use with our Water Conservation Calculator