Multi-Family Residences and Commercial Buildings
Become a Florida Water Star 
Florida Water Star is a voluntary, points-based certification program that recognizes and encourages water use efficiency in single-family homes. Florida Water Star certification means your property meets fundamental criteria for efficiently using water in residential irrigation, landscape design and indoor water-using fixtures and appliances.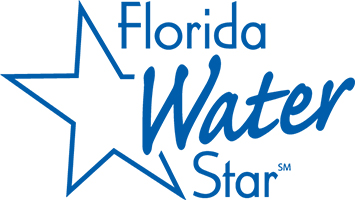 The program is supported by the South Florida Water Management District and administered by Triconic, LLC. For more information on the certification process, please visit Florida Water Star: Certification Process. In addition to improving water efficiency in existing homes, Florida Water Star can be effectively integrated into residential construction projects along with other green certification programs – such as ENERGY STAR®, the Florida Green Building Coalition's green standards and the U.S. Green Building Council's LEED program. When compared to many other green building certifications, Florida Water Star is noticeably more detailed and relevant to Florida's unique conditions. It can therefore further enhance the effectiveness of other certification programs in South Florida. 
Florida Water Star certifiers are available to evaluate your property and help you earn your Florida Water Star plaque today. 
With your help, fostering a strong ethic of conservation will protect South Florida's limited water resources. Conservation helps to ensure a more sustainable water supply for natural systems and Floridians today and for generations to come. 
Installing water efficient, ENERGY STAR labeled appliances, 

Installing WaterSense labeled high-efficiency water fixtures, such as showerheads, toilets, and kitchen and bathroom faucet aerators. 
Ideas for Condo and Homeowner Associations
Is your community or homeowners' association looking for ways to save water? Here are some guidelines and suggestions for making sure that your property and buildings are helping to conserve water.
 Landscaped Areas
Design landscaped areas following Florida Friendly LandscapingTM principles.
Consider installing a "smart" irrigation controller that uses weather data or soil moisture information to decide when and how much irrigation is needed.
Check your irrigation system regularly for leaks and overspray.
Adhere to lawn watering restrictions. Learn when you can water in your area HERE. 
 Non-Landscaped Areas Outdoors
Don't clean sidewalks and driveways with water. A hose can use 25 gallons in just 5 minutes. Consider using a broom instead.
Note the number of outdoor faucets on the outsides of buildings. Make a list and check all of them for leaks regularly.
 Community Pools and Hot Tubs
Cover the pool when closed to the public. A pool cover can cut evaporation losses by 70% or more!
Don't overfill your pool. Maintaining a reasonable water level reduces the amount of water lost to splashing.
Consider using a robot pool cleaner to remove dirt and debris before it reaches the filter. Maintaining a clean filter avoids backwashing, which can waste hundreds of gallons of water each time.
Check your pool and pipes for leaks. 
Ideas for Commercial Building Owners
Do you own or manage a commercial building? One of the main benefits of water conservation can be reduced operational costs. Here are some recommendations for making sure that you are using water in the most efficient way.
General Water Saving Tips
Perform a facility audit to identify where and how water is being used and could be saved. Establish specific water saving goals and create a plan that includes the measures to be implemented in order to achieve those goals.
Replace older water using devices (e.g. faucets, showerheads, toilets) with more efficient ones. Look for the WaterSense or Energy Star® labels.
Promote water saving by educating staff on best management practices.
Make sure all hoses have automatic shut off nozzles.
Install rainwater harvesting systems.
Install submeters and flowmeters to monitor specific water uses (e.g. cooling towers, irrigation) and identify water saving opportunities.
Regularly check cooling systems and water using devices for leaks.
Develop a leak detection program and post signs on how to report leaks.
South Florida Water Management District Water Efficiency and Self-Conducted  Water Audits at Commercial and Institutional Facilities Guide: Step-by-step instructions on how to conduct a water audit at your facility.