Why Buy and Manage Land
Land is a key component in most efforts to restore and/or healthfully manage ecosystems from central Florida to the Florida Keys. Restoration efforts where land plays an essential role include the Kissimmee River, Lake Okeechobee, the Loxahatchee River, the Everglades and the Big Cypress Preserve, Florida Bay, the St. Lucie River and Indian River Lagoon and the Caloosahatchee River.
Sometimes, this means that the South Florida Water Management District or other state, local or federal government entities need to buy lands and retain ownership or access on behalf of the public. As part of the SFWMD's land acquisition activities, the agency handles negotiations for acquisitions, appraisals, environmental assessments, geographic information system (GIS) mapping, land surveying, property title searches and closings. 
 
Environmental Assessment for the Transfer of Grant Encumbrance
Bird Drive Restoration Area
The District has prepared a draft Environmental Assessment (EA) based on the proposed transfer of specific grant-funded restrictions on certain tracts to alternative tracts, all located within the Bird Drive Restoration Area project in Miami-Dade County. The draft EA is available for review at DOI Notice.
Surplus Land
The South Florida Water Management District acquires land for the purpose of helping the agency meet its mission of environmental restoration, flood control and water resource development and protection.
Surplus lands are District-owned properties that are no longer needed for mission-related projects. Lands that are designated for surplus may be (a) offered for public bid; (b) conveyed by the District to another governmental entity; or (c) used in potential real estate exchange transactions. Periodically reviewing all real estate holdings and identifying surplus lands helps ensure that the agency is directly devoting public assets toward its multi-faceted responsibilities.
Sold! Surplus land winning bids
The South Florida Water Management District is committed to open and transparent two-way communication with the public we serve. Practicing this commitment, we are providing you with a list of all surplus land parcels that have been sold to date, bidders, bid amounts, bid award notices and selling price. Simply click the tract number.
SURPLUS_LAND_WINNING_BIDS
Tract ID Number
County
Acreage
Bid Opening
Closing Date
Selling Price
AG100-008 [PDF]
Osceola
20.41
06/02/2015
06/17/2015
$480,105
KE100-236 [PDF]
St. Lucie
23.74
04/21/2015
05/13/2015
$107,000
KE100-238 [PDF]
St. Lucie
102.54
04/21/2015
05/13/2015
$572,000
18403-008 [PDF]
Polk
5.40
08/19/2015
09/01/2015
$103,000
18403-033 [PDF]
Polk
14.76
08/19/2015
09/01/2015
$137,200
18403-045 [PDF]
Polk
11.55
08/19/2015
09/01/2015
$116,600
C1100-038 [PDF]
Okeechobee
416.41
08/31/2015
09/11/2015
$2,132,000
FF100-007 [PDF]
Martin
19.62
11/18/2015
12/04/2015
$1,700,000
OB100-001 [PDF]
Collier
1.76
09/16/2016
12/19/2016
$1,305,001
C1100-041 [PDF]
Okeechobee
44.15
12/06/2016
01/19/2017
$310,051
19103-654 
19103-837 [PDF]
Highlands 
 
16.77 
 
03/22/2017 
 
05/03/2017 
 
$265,000 
 
D0100-004 [PDF]
St. Lucie
5.81
05/02/2017
05/23/2017
$136,100
19104-004 [PDF]
Okeechobee
20.03
10/18/2017
11/30/2017
$167,005
W9201-278 [PDF]
Broward
23.41
05/02/2018
05/22/2018
$3,090,120
W9201-279 [PDF]
Broward
9.24
05/02/2018
05/22/2018
$1,404,480
Proposed Surplus Lands
In September 2013, the District completed the first phase of a comprehensive land assessment with the review of nearly 750,000 acres of fee-owned lands. More than 97 percent of the acreage evaluated was determined to directly support the District's core mission. As a result of the assessment process, however, some properties were recommended for potential exchange or surplus.
As lands become available for proposed surplus, an inspection and public meeting dates will be posted for interested parties. Please search the database of lands for sale or exchange below for details on individual properties. Any lands currently open for bidding will be highlighted in green. If you have any questions, please email surplusland@sfwmd.gov.
Land Leasing Program
The South Florida Water Management District's leasing program assists the agency in managing lands acquired for water management purposes or for ecosystem restoration prior to project implementation. In addition, lease holders temporarily keep public lands in production, pay taxes and local assessments, control exotic vegetation and implement best management practices for nutrient management and other water quality improvements. Revenues generated by the leases are used to support land management activities throughout the District.
In April 2016 and February 2017, the SFWMD Governing Board approved revisions to the agency's leasing policy. The policy amendments incorporated feedback provided by lessees and other stakeholders during a public process.
Searchable Leased Lands Database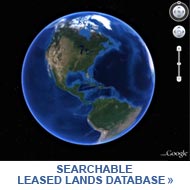 To improve the transparency of the land leasing program, the District developed a convenient, searchable database of its leased lands. The database enables users to find a variety of information about each property, including the lessee's name, the lease amount, the size of the property and the term of the lease. For each entry, a map is available that pinpoints the location of the property.
Available Leasing Opportunities
If you are interested in leasing District property, please visit our Current Solicitations/Contract Opportunities web page for a list of current leasing opportunities. If you have any questions, please contact Dawn West by email or call 561.682.6957.
Sign up for updates: Receive email notifications on land leasing opportunities. For individuals interested in placing bees on District property, email LandUse@fsbabee.org.
Other Real Estate Activities
Canal reservations that have been reserved by the Everglades Drainage District (EDD) and Trustees of the Internal Improvement Fund (TIIF) may be released. The property owner must complete and submit the District's "Application for Release of Mineral, Canal, and Road Reservations Reserved" (Form #0108). In the case of Trustees of the Internal Improvement Trust Fund (TIITF) canal reservations, the Florida Department of Environmental Protection requires this agency's approval prior to submitting its application requesting release. Staff will review, on parcels of any size, if present or future right-of-way requirements have been or can be readily determined. The South Florida Water Management District seeks the concurrence of the agency concerned with local or secondary water control prior to releasing Mineral, Canal and Road reservations.
Please contact Ken Bianco, by calling 561-682-6078 or by emailing ReleaseApplications@sfwmd.gov for an application or inquiries.
In addition to the lands listed as available for surplus, other land interests owned by the District may be available, including easements and canal rights-of-way.
Private landowners and commercial entities that reside adjacent to District canals – who wish for more intense use of public land for their personal benefit; or whose property is encumbered by a District interest, may wish to apply for the surplus or release of that specific interest.
If you are interested in learning if a particular property interest may be available for surplus, contact Rosemary Monaco, by calling: 561-682-6541 or by email: rmonaco@sfwmd.gov
Additional information on this process is in this Sale or Exchange of Surplus Lands Information Packet [PDF].
Independent appraisal professionals are contracted for most appraisal and some appraisal review needs related to the acquisition of land interests by the District. Qualified appraisers are matched to each appraisal assignment, and they prepare the appraisals in recognition that the vast majority of land acquisitions are accomplished by voluntary means. The judgment or opinion of these appraisers is governed by uniform legal standards.
The review appraiser plays an important role in the acquisition process and is charged with assuring the quality and consistency of the appraisal process is maintained. An appraisal review is completed for all appraisal reports of real property to be acquired. The qualified review appraiser determines if the estimate of market value is reasonably supported by an acceptable appraisal.
The in-house review appraiser for South Florida Water Management District is Wayne B. Lewis, MAI. The approved appraiser list used by SFWMD is maintained by the Florida Department of Environmental Protection (FDEP).
Application for approved appraiser status should be made directly to FDEP. For any further questions please contact Wayne B. Lewis, MAI directly by calling 561.682.6689 or emailing wlewis@sfwmd.gov
Appraiser Standards
Appraiser Application