Cattle Grazing Land Leasing
Cattle ranching has a nearly 500-year history in Florida. Cattle were first introduced to North America in Florida in 1521 by Spanish explorer Juan Ponce de Leon. For centuries, the cattle industry has contributed to Florida's natural resources. Lands used for cattle production are important environments for native plant and animal habitat as well as aquifer recharge. Birds and other wildlife thrive on lands used for cattle production.
As caretakers of thousands of acres of grazing pastures, Florida cattle ranchers are good land stewards.
And, as owners of more than 1 million acres of public land for water management or environmental restoration projects, the South Florida Water Management District relies on other agencies and the private sector to help manage some of these lands. One of these programs is the Cattle Grazing Land Leasing Program. 
Cattle grazing land lease holders temporarily keep public lands in production, pay taxes and local assessments. They also maintain the property in a condition consistent with its intended future use by implementing prescribed agricultural best management practices and land management requirements for water quality improvements, natural resource protection and exotic plant control. Of the SFWMD's total 77 land leases, 51 are leased for cattle grazing.
Meet a multigenerational Florida rancher and SFWMD cattle grazing land lease holder and see how he implements land management activities and best management practices to control exotic plants and protect water quality.
Cattle Grazing Land Lease Policy 
In April 2016 and February 2017, the SFWMD Governing Board approved revisions to the agency's leasing policy regarding bid requirements for competitively bid leases, lease contract security deposits, lease extension terms, lease-holder termination noticing and new annual rent adjustment formula on new leases with a one-time option for existing cattle grazing lease-holders to convert to the new formula. The policy amendments incorporated feedback provided by lessees and other stakeholders during a public process. 
Current Cattle Grazing Land Leases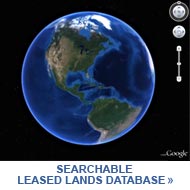 SEARCHABLE DATABASE: This database enables users to find a variety of information about each property, including the lessee's name, the lease amount, the size of the property and the term of the lease. For each entry, a map is available that pinpoints the location of the property.
Available Leasing Opportunities
If you are interested in leasing South Florida Water Management District property, please visit our Current Solicitations/Contract Opportunities web page for a list of leasing opportunities. If you have any questions, please contact Dawn West by email: dwest@sfwmd.gov, or by phone: 561-682-6957. 
Sign up for updates – Get the latest on SFWMD's Cattle Grazing Land Leasing Program.