Everglades Works of the District (EWOD) Permits
An Everglades Works of the District (EWOD) Permit is required of landowners or entities within or discharging to drainage basins in the Everglades Agricultural Area (EAA) or C-139 Basin that ultimately drain to the Everglades. Generally all lands are required to apply for an EWOD Permit.
An EWOD Permit is an approval of a best management practices (BMP) plan, and of a discharge (water quality and quantity) monitoring plan where applicable. The goal is to achieve a 25-percent reduction in phosphorus loads from the EAA Basin as a whole and to maintain historic phosphorus discharge loads in the C-139 Basin.

 
In reviewing your application, District staff are required to weigh whether the proposed activity will, among other things:
Result in a discharge that is consistent with the overall objectives of the District
Not be harmful to the water resources of the District
Constitute a feasible BMP Plan
Include, where required, a feasible Discharge Monitoring Plan
Be granted all other necessary District approvals
 
---
Everglades Works of the District Permitting Fees
Fees for Everglades Works of the District permits vary depending on the size and location of the activity.
Individual EAA Permit
 
New Individual Permit (plus $1.50/acre for each acre over 320 acres, maximum fee $30,000)
$ 1,880
Renewal Individual Permit (with or without modifications) (plus $0.25/acre for each acre over 320 acres, maximum fee $5,000)
$ 1,560
Modification of an existing Individual Permit
$ 1,880
Letter Modification of an existing Individual Permit
$ 500
Admin Info Update to an existing Individual Permit
$ -0-
Transfer (ownership) of an existing Individual Permit
$ 200
 
 

---

Master EAA Permit
 
New Master Permit (plus $1.50/acre for each acre over 320 acres, maximum fee $750,000)
$ 1,880
Renewal Master Permit (with or without modifications) (plus $0.25/acre for each acre over 320 acres, maximum fee $150,000)
$ 1,680
Modification of an existing Master Permit
$ 1,880
Letter Modification of an existing Master Permit
$ 500
Admin Info Update to an existing Master Permit
$ -0-
Transfer (ownership) of an existing Master Permit
$ 500
| | |
| --- | --- |
| General C-139 Basin Permit |   |
| New General Permit | $ 250 |
| Renewal General Permit | $ 250 |
| Modification of an existing General Permit | $ 100 |
| Letter Modification of an existing General Permit | $ -0- |
| Transfer (ownership) of an existing General Permit | $ 100 |
Permit Submittal Location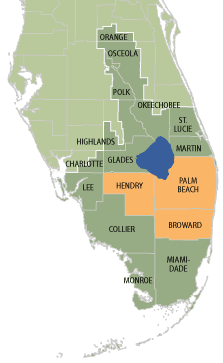 Broward, Hendry and Palm Beach counties
SFWMD Headquarters
Building B-1
3301 Gun Club Road
West Palm Beach, FL 33406
Phone: (561) 682-6736
Fax: (561) 682-6896