Greater Everglades Ecosystem
The South Florida Water Management District works to protect and preserve four unique watersheds: the Kissimmee Basin, Lake Okeechobee and its watershed, the Everglades and our region's coastal systems. Each is a vital part of the South Florida ecosystem.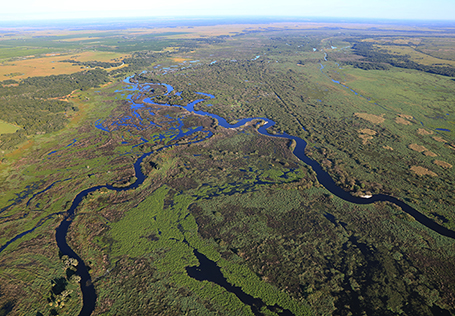 The Kissimmee River, with the Upper Chain of Lakes, forms the headwaters of the Everglades. The river once meandered for 103 miles from Lake Kissimmee to Lake Okeechobee, through a wide floodplain.
Lake Okeechobee is at the center of South Florida's regional water management system. The shallow but massive lake is 730 square miles, the second largest freshwater lake within the continental United States.
Everyone in south or central Florida benefits from a healthy Everglades. Restoration projects are underway to protect this national treasure. The South Florida Water Management District is working closely with federal, state and local partners to achieve restoration goals.
South Florida's coastal systems support spiny lobsters, shrimp, crabs, oysters, spotted sea trout and many other species of commercial and recreational interest. Coastal ecosystems need special protection because these areas are often impacted by population centers along Florida's coasts.
Restoration Improves Water Quality and Quantity
A comprehensive effort is underway to protect and restore these ecosystems. Planned and ongoing restoration projects are improving regional water quality, hydrology and ecology – all of which were fundamentally altered by public and private development projects begun more than a century ago.