Resiliency and Ecosystem Restoration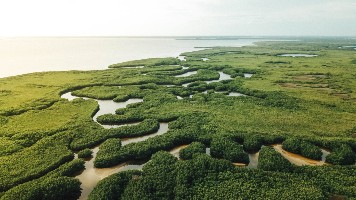 Ecosystem Restoration supports SFWMD's efforts to address the effects of climate change and sea level rise. Completed water shortage projects that are part of the Comprehensive Everglades Restoration Plan (CERP) will increase SFWMD's ability to better manage water for the benefit of people and the environment.
Completed CERP projects will also increase the District's ability to better manage anticipated extreme weather events. In addition, these projects will increase the ecosystem's future resilience in the face of warmer temperatures and other climate change impacts. The restoration of beneficial freshwater flows throughout the system slows down saltwater intrusion promoting more sustainable aquifer recharge rates, healthier estuaries and bays, more stable coastlines and reduced marsh dry outs, as detailed in the 2022-2027 Strategic Plan. 
The District also partners with several organizations, including Florida International University, Florida Sea Grant Program, National Science Foundation and Everglades National Park, to study how sea level rise and salinity intrusion affect peat soil, one of the critical building blocks of the Everglades habitat.
The District supports additional grant applications for studies, and has made technical staff commitments to investigate the effectiveness of natural and nature-based features, such as mangroves, at attenuating the effects of storm surge on coastal communities both in the southwest and the southeast coastal areas.