Cocohatchee Canal I-75 Loop Interchange Tree Removal Project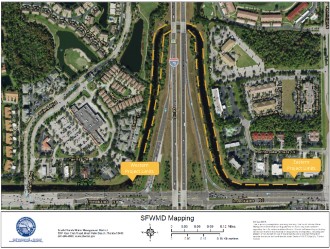 As part of the agreement between Collier County and the South Florida Water Management District; proper flood control is one of the main maintenance objectives for the Big Cypress Basin to provide. One aspect of maintenance is the removal of vegetation, trees, debris, and other items that could cause blockage of canals and structures which increases the risk of flooding after a storm or hurricane
The Cocohatchee canal at the I-75 Interchange has been identified as one of the priority canals for flood control.
Starting the first week of August the Big Cypress Basin will start removing trees along both sides (see map) of the canal along the I75 interchange. This work will be water-based and we have coordinated with Collier County, Florida Department of Transportation and agreed on the scope of work for this project.
All impacted residents will be notified 30 days prior to the start date and again two weeks prior to the commencement of work in a specific area. Basin/District staff will continue to update residents impacted by the project until all work is complete. This web page will also be updated regularly with canal closures, property access details and project status updates as needed.