North of Lake Okeechobee Storage Reservoir (LOCAR) Section 203 Study
On January 10, 2023, Governor Ron DeSantis signed Executive Order 23-06 (Achieving Even More Now for Florida's Environment) to further expedite restoration projects and advance the protection of Florida's natural resources. In the order, the South Florida Water Management District (SFWMD) is directed to make every effort to advance Everglades restoration projects to ensure meaningful progress over the next four years, including all Comprehensive Everglades Restoration Plan (CERP) storage components within the Lake Okeechobee watershed. The South Florida Water Management District continues its efforts to implement all on-going CERP storage projects like the EAA Reservoir, Lake Okeechobee Watershed Restoration Project, Caloosahatchee (C-43) Reservoir, and Indian River Lagoon-South reservoirs.
The SFWMD, as the non-Federal sponsor for the CERP, is conducting a Feasibility Study for the North of Lake Okeechobee Storage Reservoir (LOCAR) Section 203 Study under the federal Water Resources Development Act (WRDA) of 1986, as amended. The study must be technical and compliant with the federal planning process. The SFWMD is contracting with the U.S. Army Corps of Engineers (USACE) to work on the SFWMD's behalf to provide technical assistance and conduct Federal activities to meet those requirements. USACE will be coordinating the National Environmental Policy Act portion of the Feasibility Study and the SFWMD will prepare the Environmental Assessment (EA) or the Environmental Impact Statement (EIS).
The Feasibility Study and EIS will explore opportunities for aboveground water storage north of Lake Okeechobee with an estimated water storage capacity of 200,000 acre-feet. The study area covers a large portion of the Lake Okeechobee Watershed north of Lake Okeechobee and will provide ecological benefits to the lake and the northern estuaries. Once complete, the feasibility study and EIS will be submitted to the Assistant Secretary of the Army for Civil Works for consideration by Congress in the Water Resources Development Act of 2024.
Project Study Area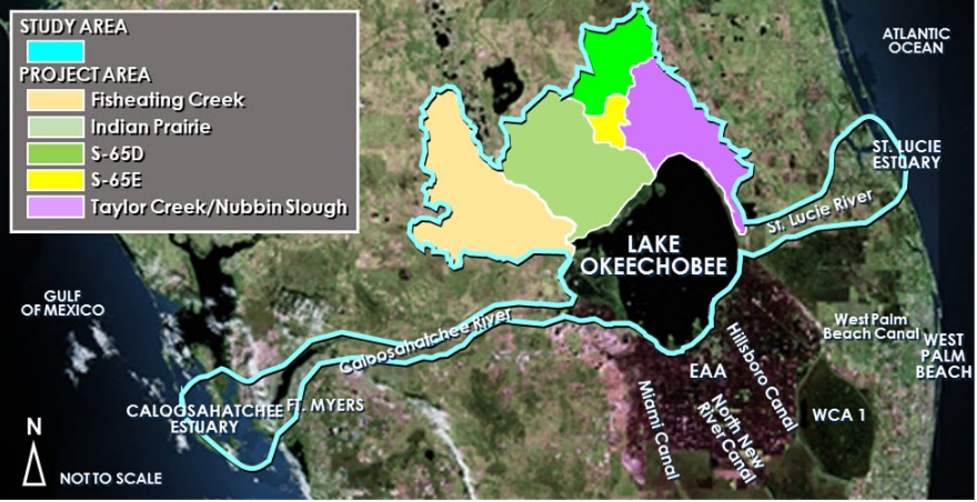 Project Purpose
The purpose of this reservoir is to store excess water in the northern watersheds and release the excess water at times when it is beneficial for the region. This increased storage capacity will reduce the duration and frequency of both high and low water levels in Lake Okeechobee, which are harmful to Lake Okeechobee's ecology. With these improvements to Lake Okeechobee levels, the reservoir will help reduce the likelihood of harmful discharges from Lake Okeechobee to the northern estuaries.
LOCAR Planning Timeline
Project Scoping – April 2023
Identify Alternatives/Recommended Plan – July/August 2023
Draft Feasibility Study – October 2023
Final Feasibility Study – December 2023
Related Documents
Upcoming Engagements and Meetings
Past Engagements and Meetings
North of Lake Okeechobee Storage Reservoir (LOCAR) Section 203 Study Project Update
Thursday, August 3, 2023 at 2:00pm
Agenda for the North of Lake Okeechobee Storage Reservoir (LOCAR) Section 203 Study Project Update
LOCAR Presentation on 8/3/23
Community Meeting for North of Lake Okeechobee Storage Reservoir Section 203 Study
Tuesday, August 1, 2023 from 10:00am-12:00pm
Okeechobee Service Center, Downstairs Conference Room, 316 Northwest 5th Street, Okeechobee, FL 34972 
Agenda for the Community Meeting for the North of Lake Okeechobee Storage Reservoir (LOCAR) Section 203 Study
Community Meeting for North of Lake Okeechobee Storage Reservoir Section 203 Study
Thursday, May 4 from 10:00am-12:00pm
Okeechobee Service Center, Downstairs Conference Room, 316 Northwest 5th Street, Okeechobee, FL 34972
Agenda for the Community Meeting for North of Lake Okeechobee Storage Reservoir Section 203 Study
Public National Environmental Policy Act (NEPA) Scoping Meeting
Thursday, April 27, 2023 at 6:00pm
Indian River State College Dixon Hendry Campus, 2229 NW 9th Ave., Room C-115, Okeechobee, FL 34972
Agenda for the NEPA Scoping Meeting for LOCAR
LOCAR Presentation on 4/27/23