Sea Level Rise and Flood Resiliency Plan
As part of the District's commitment and ongoing efforts, alongside local governments, stakeholders, and communities in the region, to address the impacts of a changing climate, including sea level rise and extreme rainfall events, on the District's critical assets, water management operations, water supplies, and water resources, the District is developing its Sea Level Rise and Flood Resiliency Plan.
Sea Level Rise and Flood Resiliency Plan Vision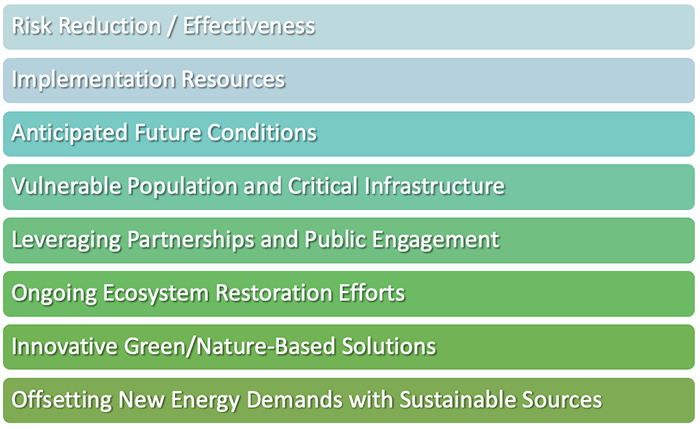 The plan, updated annually, is the first District initiative to compile a comprehensive list of priority resiliency projects with the goal of reducing the risks of flooding, sea level rise, and other climate impacts on water resources and increasing community and ecosystem resiliency in South Florida. This goal will be achieved by updating and enhancing water management infrastructure and implementing effective, resilient, integrated basin-wide solutions. This list of projects was compiled based upon assessments that have been ongoing for the past decade.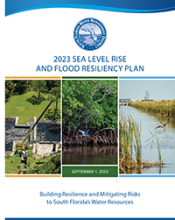 These assessments utilize extensive data observations and robust technical hydrologic and hydraulic model simulations to characterize current and future conditions, and associated risks.
Section 380.093 (5) F.S. requires the DEP to develop a Statewide Flooding and Sea Level Rise Resilience Plan and submit to the Governor and Legislature for approval. As part of the Resilient Florida Program Implementation, the South Florida Water Management District submits the list of priority projects, supported by the District's Sea Level Rise and Flood Resiliency Plan, to FDEP by September 1 every year.
The District has addressed public comments and submitted the 2023 Sea Level Rise and Flood Resiliency Plan to the state on September 1, 2023. Thanks for the valuable contributions received from our partners, stakeholders and the public this year.
Previous Workshops
SFWMD Resiliency Workshop: The Draft Sea Level Rise and Flood Resiliency Plan as presented to the public in June 2022. This effort built upon the 2021 SFWMD Resiliency Plan by including additional resiliency initiatives and new recommended strategies based on public and stakeholder feedback.
Learn More
Read FAQs about how this plan is integrated to the C&SF Flood Resiliency Study and the Flood Protection Level of Service Program.
Previous Plans