Sending Water South to Florida Bay
SFWMD Taking Action to Move Water into Florida Bay
With approval from the Governing Board in July 2016, the South Florida Water Management District is implementing an innovative plan to deliver needed fresh water to Florida Bay. This is an immediate first step to help reduce salinity levels in the bay and promote the recovery of seagrasses killed during a severe drought in 2015, providing critical relief now while larger Everglades restoration projects are built and completed.
The operational improvements in the plan will increase the flow of water directly into Taylor Slough in Everglades National Park, a major source of fresh water for the bay. The additional water reaching the bay during both the dry and wet seasons meets stringent water quality standards.
 
Plan to Help Florida Bay
The plan for Florida Bay was developed out of the work of the South Dade Study, a public process to improve flood control in southern Miami-Dade County while directing much-needed water to natural areas.
Improvements in the plan will send billions more gallons of fresh water per year into Taylor Slough. Required features include:
Degrading a weir and adding plugs along the L-31 West Canal to allow more water to flow into Taylor Slough and keeping more water in Everglades National Park.
Sending additional water through the S-328 water control structure into the L-31 West Canal reaching Taylor Slough.
Connecting the Frog Pond detention system to the L-31 West Canal sending more water toward Taylor Slough.
Rebuilding the L-31 West Levee and Weir to allow more flow.
 
Background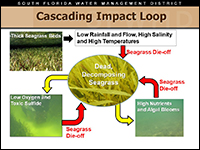 The 1,000-square-mile Florida Bay in Everglades National Park is the southernmost portion of America's Everglades ecosystem and one of the largest seagrass meadows in the world.
Historically, Lake Okeechobee combined with direct rainfall to hydrate the entire Everglades ecosystem, including Florida Bay. In today's managed system, the largest single source of fresh water into Florida Bay is direct rainfall over the bay itself, which accounts for more than 45 percent of its freshwater input. The other major source for freshwater flows into the bay is Taylor Slough in the southeastern part of Everglades National Park.
Periodic droughts, such as in 1987 and 2015, have left the waters of Florida Bay too salty, contributing to vast seagrass die-offs that can lead to harmful algal blooms (see the graphic at right). The extreme high salinity in 2015 was the result of a 16-month, localized rainfall deficit. As a result, salinity in parts of Florida Bay was more than twice as high as ocean water.