C-100A Canal Vegetation Removal Project
The second phase of tree removal along canal easements in the Pinecrest and Palmetto Bay area is expected to be completed in September 2017. The third phase in Pinecrest is expected to begin in October 2017. Details below.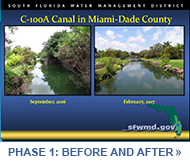 To ensure a 7-mile section of the C-100A Canal can continue to provide adequate flood protection for residents in the Villages of Pinecrest and Palmetto Bay, the South Florida Water Management District is conducting a phased tree removal effort. A total of seven, 1-mile phases will be completed through 2018.
To access and maintain the canal banks to provide optimal flood protection, the District has right-of-way easements along the canal situated on private property in Pinecrest and Palmetto Bay. Some residents have installed or constructed improvements (i.e., fences, docks, gazebos) within the easement. Residents are advised that some of these improvements may need to be removed prior to the removal of trees on a homeowner's property to allow the project to proceed. Thereafter, reinstallation of certain improvements within the District's easement may not be permitted, as they may become obstructions during heavy rainfall, blocking drainage and causing flooding, as well as interfering with emergency flooding response.
 
Tree Removal Areas and Schedule
All impacted residents will be notified 30 days from the start date and again two weeks prior to the commencement of work in a specific area. District staff will continue to update residents impacted by the project until all work is complete. This web page will also be updated regularly with canal closures, property access details and project status updates.
PHASE 3 – Fall 2017: The third phase from U.S. 1 to Killian Drive (SW 112th Street) in the Village of Pinecrest is expected to begin in mid-October 2017 with a completion expected by February 2018.
MAP: Phase 3 [PNG]
 
PHASE 2 – Summer 2017: The second phase began in late May 2017 with a 1-mile section of from SW 112th Avenue (Killian Drive) to SW 124th Street (Chapman Field). Please note this section of canal will be impassable to boat traffic while work is underway. The work is expected to be complete in September 2017.
MAP: Phase 2 [PNG]
 
PHASE 1 – Winter 2017: The first phase consisted of a 1-mile section from SW 124th Street (Chapman Field) to SW 136th Street (Howard Drive). The work was completed in April 2017, and this section of canal is now passable to boat traffic again.
MAP: Phase 1 [PNG]
---
SIGN UP FOR UPDATES – Get the latest on the project