A series of planning studies is underway to develop the next generation of ecosystem restoration projects as part of the Comprehensive Everglades Restoration Plan (CERP). Once each study is complete, a finalized plan with a suite of recommended projects will be delivered to the U.S. Congress for federal authorization and appropriations.
The U.S. Army Corps of Engineers is leading these planning efforts in partnership with the South Florida Water Management District, which is providing technical support.
The Comprehensive Everglades Restoration Plan is a framework for restoring, protecting and preserving the greater Everglades ecosystem. The plan is a 50-50 partnership between the State of Florida and the federal government.

The State of Florida and the South Florida Water Management District have so far invested approximately $2.3 billion in CERP-related land acquisition, project design and construction.
Final Public Notice - C111 Drainage Channel FEMA funding Commitment
The Federal Emergency Management Agency (FEMA) has received the subgrant application for South Florida Water Management District C111 drainage channel repair due to damages in Hurricane Irma (DR‐4337‐FL PW 06198). Pursuant to Executive Order 11988 and 44 CFR Part 9.12, final notice is hereby given of FEMA's intent to provide funding for this project under the Public Assistance (PA) Program.
>>>LINK TO FULL NOTICE
Planning Projects
Integrated Delivery Schedule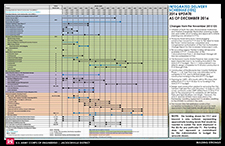 The Integrated Delivery Schedule (IDS) is the timeline of Everglades restoration projects cost shared by the state and federal governments. The IDS provides the sequencing strategy for planning, designing and constructing projects based on ecosystem needs, benefits, costs and available funding. The IDS achieves restoration benefits by:
Maximizing holistic benefits to the regional system as early as possible
Ensuring additional projects will be ready to continue progress on restoration
Maintaining consistency with project dependencies and constraints
The IDS was most recently updated in 2016. The South Florida Ecosystem Restoration Task Force Working Group sponsored a series of workshops to facilitate public participation in the IDS update. The Task Force provided feedback from these workshops to the Corps and the District during the IDS update.