Progress Continues on the Everglades Agricultural Area Reservoir Project
South Florida Water Management District Began Construction Ahead of Schedule on Treatment Wetland Component 
Under the leadership of Gov. Ron DeSantis, the South Florida Water Management District (SFWMD) is working hard to continue accelerating the Everglades Agricultural Area (EAA) Reservoir Project. The project includes two major features: a treatment wetland that will clean water and a reservoir that will store excess water from Lake Okeechobee. SFWMD is responsible for constructing the 6,500-acre wetland known as Stormwater Treatment Area (STA), and SFWMD began construction ahead of schedule in April 2020 and will be complete in 2023. The U.S. Army Corps of Engineers is building the reservoir component, which will hold 240,000 acre-feet of water.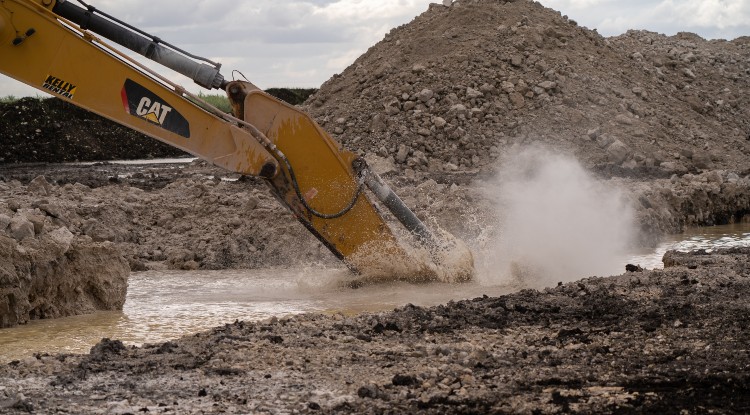 Digging canals to deliver water from Lake Okeechobee to the Stormwater Treatment Area. 
A critical component of the state-federal Comprehensive Everglades Restoration Plan (CERP), the EAA Reservoir Project will send clean water south while reducing damaging discharges from Lake Okeechobee to the east and west coasts. Gov. Ron DeSantis made expediting the completion of the EAA Storage Reservoir a key priority with one of his first executive orders, Achieving More Now For Florida's Environment.
Background and Historical Documents:
The EAA Reservoir Project was conditionally authorized in the federal Water Resources Development Act of 2000 as a component of CERP. To accelerate progress on the project, the Florida Legislature passed Senate Bill 10 in 2017. Congress provided additional authorization and approval in 2018 and 2020 to support the project's plan developed by SFWMD. 
The project includes a combination of canals, stormwater treatment areas (STAs), and a reservoir to reduce harmful discharges to the northern estuaries, send more water south, and improve water quality in America's Everglades.  
Modeling Results
As part of the extensive public process for the EAA Storage Reservoir Project, the District is conducting a series of computer modeling runs to inform the development of the project's features. As new modeling results are released, they will be posted at the FTP link below.
Public Planning Meetings
The District conducted a series of meetings to solicit public input on the EAA Storage Reservoir Project. Presentations, videos and materials from these meetings are posted in the archive below.
These public meetings were consistent with the National Environmental Policy Act (NEPA) process. The NEPA process provides an opportunity for the public to give input related to the project.