Golden Gate Canal Vegetation Removal Project
The fifth and sixth phase of tree removal work along the Golden Gate Canal will begin early September 2020. Please see below for more details.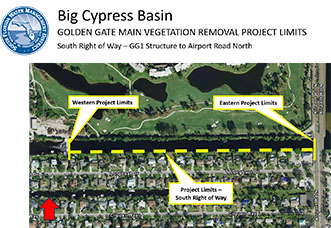 To ensure the Golden Gate Main Canal can continue to provide adequate flood protection for residents in Collier County, the Big Cypress Basin (Basin) is conducting a phased tree and vegetation removal effort. The project began in spring 2018 with four phases completed at this time.
To access and maintain the canal banks to provide optimal flood protection, the Basin has right-of-way easements along the canal situated on private property. The Basin will be removing vegetation within the easements between Livingston Road and the Golden Gate No. 1 Structure.Before each phase of the project begins, legal surveys will be posted in the "Tree Removal Areas and Schedule" section below so property owners living along the canal can identify the relationship of the District's easements to their property.
Some residents have installed or constructed improvements (i.e., fences, docks, gazebos, sheds) within the easement. Residents are advised that the Basin will require the removal of any unpermitted improvements. While the Basin will try to minimize damage to any permitted structures, it is advisable that all such improvements be removed or safeguarded before the project begins. In addition, any improvements within the canal, on the canal bank or within the easement will require a Right of Way Occupancy Permit. Information on the requirements for obtaining a permit can be found at www.sfwmd.gov/rowpermits.
This work is part of a normal cycle of maintenance to ensure that regional canals protect homes and business from flooding and that the canals function optimally during a storm, such as Hurricane Irma in September 2017. Vegetation and structures along a canal right of way may end up in the canal and cause blockages around downstream water control structures. In turn, these obstructions can prevent water from properly draining and could result in flooding that endangers the safety of residents in the immediate area and many miles away.
 
Tree Removal Areas and Schedule
All impacted residents will be notified 30 days prior to the start date and again two weeks prior to the commencement of work in a specific area. District staff will continue to update residents impacted by the project until all work is complete. This web page will also be updated regularly with canal closures, property access details and project status updates.
For More Information
---
SFWMD maintains more than 2,000 miles of canals from Orlando to the Florida Keys. Keeping them clear of debris and vegetation, especially on their banks, ensures the regional flood control system works to protect Florida families and businesses.