Keeping Canal Right of Way Clear for Flood Control
Flood control in your South Florida neighborhood depends on well-maintained canals. This requires that land adjacent to a canal embankment be clear of trees, shrubs, fences and other encroaching objects.
As part of its flood control mission, the South Florida Water Management District has right of way along 2,100 miles of canals to enable access to properly maintain the regional water management system. Residents who live adjacent to SFWMD canals or connecting secondary canals often want to plant trees or vegetation to enhance the view or set up improvements, such as fences, docks or gazebos. While some right-of-way uses are compatible and may be allowed with a permit, others may obstruct the District's ability to operate the flood control system.
 
Current Vegetation Removal Projects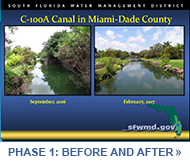 The District conducts regular inspections of the regional water management system to prioritize projects necessary for the system's continued operation and protection of South Florida's 9 million residents. In order to maintain optimal conveyance capacity of canals for flood control purposes, the District may sometimes remove vegetation and constructed improvements along the right of way.
The Importance of Proper Drainage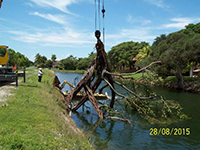 South Florida is a low, flat landscape where residents depend on an interconnected drainage system to remove excess water after storm events, including tropical storms and hurricanes. Vegetation and structures along a canal right of way may end up in the canal and cause blockages around downstream water control structures. In turn, these obstructions will prevent water from properly draining and could result in flooding that endangers the safety of residents in the immediate area and many miles away.
SFWMD field staff also must have clear access to canals for routine maintenance, repair and debris removal. During times of disaster and emergency recovery, access becomes even more important as recovery teams have to navigate through the canal system to perform emergency maintenance tasks.
 
How You Can Help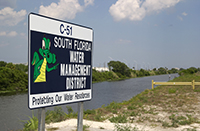 If you live next to a canal, find out whether it is a District primary canal or a secondary canal maintained by a municipality or drainage district. If you are considering placing a structure or planting trees behind your house, be sure to determine where your property line is. If you are encroaching on a canal maintenance right of way, prior approvals from the District or other agency that has jurisdiction are required.
SFWMD policy allows adjacent property owners to utilize the rights of way, provided the use does not adversely impact or interfere with the District's ability to operate and maintain the flood control system. Use of the District's maintenance right of way is governed by Right of Way Permitting Rules. More information on the permitting process can be found on the Right of Way Permits web page.
 
Report Illegal Dumping
Depositing trash and vegetative waste on SFWMD rights of way is illegal, and violators can be fined up to $10,000 per day. Trash and vegetation can be blown into canals, causing blocked water control structures and, potentially, flooding. Help the District keep its rights of way clear and canals flowing by reporting unlawful dumping. If you see dumping on District rights of way, please call the Florida Fish and Wildlife Conservation Commission at (561) 357-4202.
 
Related Links and Multimedia
---
SFWMD maintains more than 2,000 miles of canals from Orlando to the Florida Keys. Keeping them clear of debris and vegetation, especially on their banks, ensures the regional flood control system works to protect Florida families and businesses.