Picayune Strand Restoration Project
Project Overview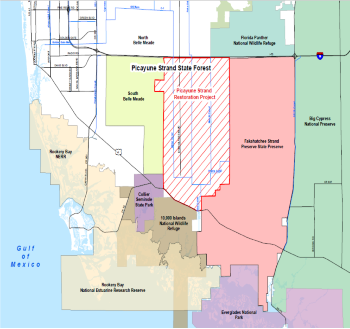 The Picayune Strand Restoration Project (PRSP) will restore over 55,000 acres of native Florida wetlands and uplands on Florida's Southwest coast. The project is expected to result in improved flows of water into Collier Seminole State Park, Ten Thousand Islands National Wildlife Refuge and the Rookery Bay National Estuarine Research Reserve. Crews are actively removing crumbling roads, plugging canals, and building pump stations to restore the natural sheet flow of water, and in turn attract more wildlife and vegetation. The area will be greatly enhanced for fish and wildlife resources, including threatened and endangered species such as the Florida Panther. Aquifer recharge will also be improved to protect water supply and prevent saltwater intrusion.
The South Florida Water Management District (SFWMD) and the U.S. Army Corps of Engineers (USACE) are working to complete this project, which is a part of the Comprehensive Everglades Restoration Plan (CERP). When complete, the PSRP will help restore the ecosystem connectivity of the region.
Read more about the SFWMD's efforts to advance Everglades restoration and improve water quality in Florida.
Project Benefits
Through a collaboration between SFWMD and the USACE, the PSRP will restore more than 55,000 acres of native Florida wetland and uplands. Restoration efforts will involve construction of three pump stations, plugging approximately 48 miles of canals and removing 285 miles of deteriorating roads and pavements. The benefits of the PSRP will also help to improve:
Pre-drainage watershed flow pattern to a sheet flow condition
Upland/wetland habitat in the watershed
Increased groundwater levels
Habitat for endangered/threatened species (Florida panther, wood stork) 
Fire management
Water quality of coastal estuaries by moderating the large salinity fluctuations caused by point source discharge of canals
Project Features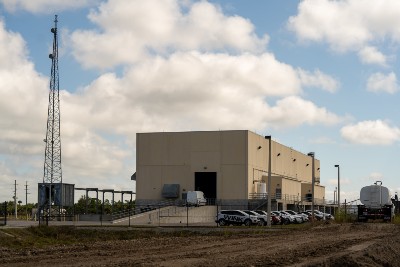 Three pump stations to direct fresh water to drained wetlands and maintain current flood protection for communities north of I-75:
Merritt – 810 cfs 
Miller – 1250 cfs
Habitat restoration removal of barriers to control outflow and mimic historic flow of water:
Plugging of 42 miles of canals
Removal of 285 miles of roads
Removal of 62 miles of tram roads
Southwest Protection Feature levee provides flood protection for existing agricultural and residential properties.
Manatee mitigation feature to provide warm water refugia for manatees that became dependent on the flows from Faka Union Canal.
Current Projects
Feature

 

Contract Award Date
Expected Completion
Miller Tram & Road Removal
September 2019
December 2022

Southwest Protection Feature

Levee
September 2020
October 2023
Conveyance Features
September 2020
October 2023
Faka Union Canal
Spoil Clearing
September 2020
October 2023
Plugging Upper 3 mi.
Work done by USACE staff
Completed in 2022
Current Status
Approximately 50% hydrologic restoration currently achieved (blue shaded area in the figure)

Currently 90% of roads have been degraded

Currently 98% of logging trams have been degraded

3 Pump stations are complete

Prairie and Merritt canals are plugged - Upper 3.3 miles of Faka Union canal is plugged

Manatee mitigation feature is complete
Feasibility Study
SFWMD recently completed a Picayune Strand Water Quality Feasibility study to identify opportunities to improve water quality in the Picayune Watershed in Collier County. The study reviewed existing data, evaluated nutrient inflow levels and recommended treatment technologies.
The Water Quality Feasibility Study is not a part of the Comprehensive Everglades Restoration Plan.

Project Implementation Report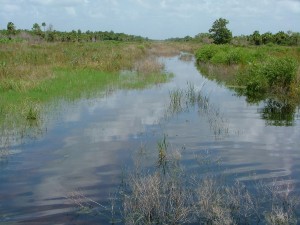 The Project Implementation Report shows the expected project benefits that include restoration of historic wetland communities, sheet flow towards the coastal estuaries, reduction of harmful surge flows through the Faka Union Canal into Faka Union Bay, improved freshwater overland flow and seepage into other bays of the Ten Thousand Islands Region, improved aquifer recharge, decreased frequency and intensity of forest fires, improved habitat for fish and wildlife and threatened and endangered species, reduced invasion of exotic species, and increased spatial extent of wetlands.
This Report integrated the contents of an Environmental Impact Statement with the project planning report, and includes an Operations Plan for the proposed structures and a long term Monitoring Plan to assure project ecosystem benefits are obtained.