Picayune Watershed Water Quality Feasibility Study
Feasibility Study
The intent of the Picayune Watershed Water Quality Feasibility Study is to improve the quality of water entering the Collier-Seminole State Park, Rookery Bay Estuarine Research Reserve, and the Cape Romano – Ten Thousand Islands National Wildlife Refuge. Water flows entering these protected areas currently have increased levels of phosphorus and nitrogen. The feasibility study will review existing data, evaluate nutrient inflow levels and recommend treatment technologies.
Site Analysis
The purpose of the Water Quality Site Analysis was to identify candidate parcels or parcel areas that could serve to host one or more of the water quality projects identified in the Water Quality Feasibility Study and provide a basis for comparative analysis among the candidate parcels to support site selection. Of the 1,935 parcels reviewed, three parcels (803, 1207, and 1920) have the potential to meet the intent of this project noting that each have their own unique benefits and challenges.
Map of Study Area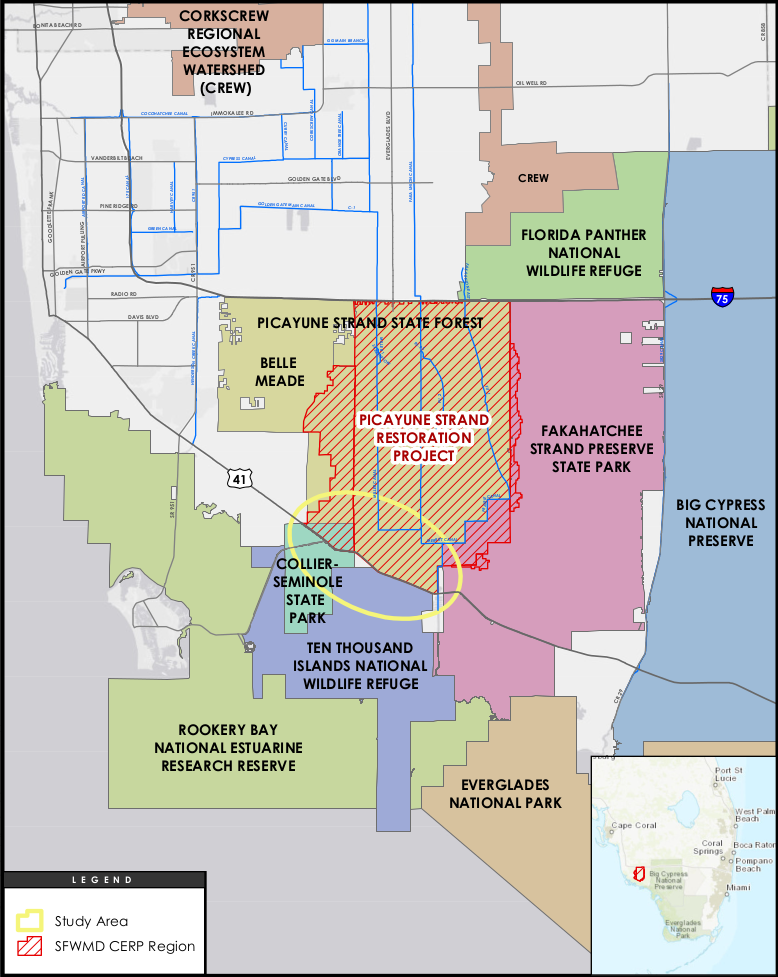 Identified Technologies 
Treatment technologies will be evaluated against their a) capacity to reduce nutrient inflows, primarily Total Phosphorous and secondarily Total Nitrogen and b) ability to be installed within the boundaries of the study area south of US 41 (project sites must be under public ownership and appropriately sized). The following technologies have been identified for review:
Applicable

Constructed treatment wetlands
Flow equalization basins
Spreader berms and canals
Restored wetlands
Offline alum treatment
Air diffusion systems
Periphyton/submerged aquatic vegetation growth & removal

Non-applicable

Algal scrubbers
Floating treatment wetlands
Bold and Gold®
NutriGone Media™
Downstream Defender®
Aquifer storage and recovery
Deep well injection
Status, Resources, Next Steps and Public Involvement
Team members have compiled an Information Collection Summary Report. This report will provide findings for each of the identified technologies. It will also recommend more detailed research on the technologies that will be most applicable to the study area.
To receive information and updates about the Picayune Watershed Water Quality Feasibility Study, register by using the link below: 
Fact Sheets
Partner Agencies
 


 South Florida Water Management District


Florida Department of Environmental Protection


 Florida Department of Agriculture and Consumer Sciences


 United States Fish and Wildlife Service


  Lipman Family Farms

 
 Collier County Pollution Control


  Conservancy of Southwest Florida


  Florida Wildlife Federation


  Quest Corporation of America (Consultant)
 

 
 Lago (Consultant)