Lower East Coast Water Supply Plan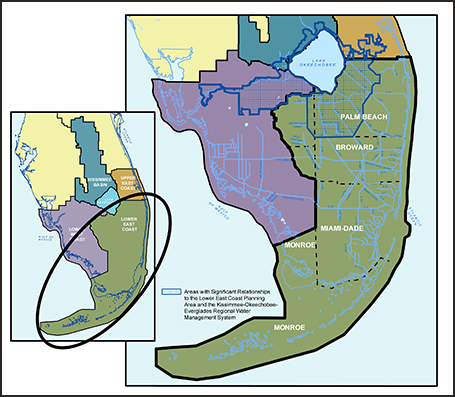 The Lower East Coast Water Supply Planning Area includes Palm Beach, Broward, Miami-Dade and parts of Monroe, Collier and Hendry counties. The South Florida Water Management District is developing the 2023 Lower East Coast Water Supply Plan Update (LEC Plan Update) to assess projected water demands and potential sources of water for the period from 2021 to 2045. This plan update will be used by local governments, water users and utilities to update and modify local comprehensive plans, facility work plans and ordinances.
The Lower East Coast Planning Area has a growing population and limited freshwater resources. Because freshwater resources are limited, the 2023 LEC Plan Update focuses on other water supply sources, such as reverse osmosis to treat brackish groundwater, reclaimed water, storage options, seasonal surface water and water conservation to address future demands.