Restoration Strategies Science Plan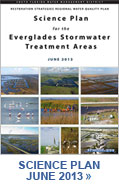 As part of the Restoration Strategies Regional Water Quality Plan, the South Florida Water Management District will be implementing the Science Plan for the Everglades Stormwater Treatment Areas (STAs). More than 35 SFWMD scientists and engineers drafted the Science Plan in coordination with technical representatives from the Florida Department of Environmental Protection, the U.S. Environmental Protection Agency, the U.S. Army Corps of Engineers, Everglades National Park and the Arthur R. Marshall Loxahatchee National Wildlife Refuge.
The Science Plan was developed to identify studies that investigate the critical factors that collectively influence ultralow treatment performance and phosphorus reduction in the STAs. Results from Science Plan studies will be used to inform the design and operation of water quality projects to meet the stringent phosphorus standard for the Everglades. Data and information gathered from the studies will also be incorporated into the development and refinement of the District's modeling tools.
The Science Plan was published in June 2013, and plan updates are being reported in the annual South Florida Environmental Report (SFER). Agency implementation of eight initial studies is under way, and the Detailed Study Plans for these studies are provided below.