Restoration Strategies Science Plan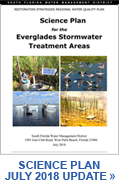 As part of the Restoration Strategies Program, the South Florida Water Management District implemented the Science Plan for the Everglades Stormwater Treatment Areas (STAs). Initiated in 2013 and updated in 2018, the Science Plan is intended to improve the understanding of mechanisms and factors that affect phosphorus treatment performance, particularly those that are key drivers of performance at low phosphorus concentrations (less than 20 parts per billion, or µg/L). Results from the Science Plan studies will aid the design and operations of water quality projects to achieve the stringent phosphorus criterion established for the Everglades. Data and information gathered from the studies also may be used to develop and refine modeling tools.
The Science Plan was developed by a team of SFWMD scientists, modelers and engineers with input from technical consultants and Restoration Strategies Technical Representatives from the U.S. Environmental Protection Agency, Florida Department of Environmental Protection, U.S. Army Corps of Engineers and U.S. Department of the Interior (Everglades National Park and U.S. Fish and Wildlife Service).
Studies under the Science Plan are conducted by District staff, experts from universities and/or technical contractors. Larger studies have involved all three mechanisms. Four work order contracts were developed competitively to provide outside support for the first five-year increment of studies. These were rebid in 2018 and now seven work order contracts can be used to support the Science Plan.
For more information, contact Tom James, SFWMD Principal Scientist.
 
Plan Studies*
* This list will be updated periodically. The status of studies will change from ongoing to completed once they are finalized.
Ongoing
---
Completed