Florida Python Challenge 2020 Python Bowl Awards Celebration Jan. 25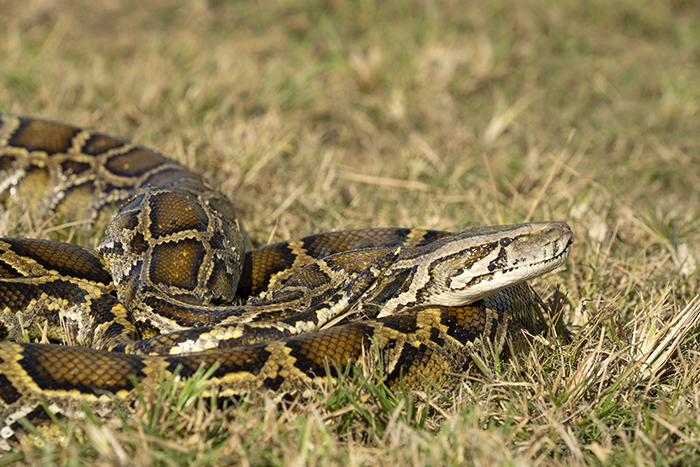 Jan. 24, 2020
Who: State and local leaders will join the Florida Fish and Wildlife Conservation Commission (FWC), the South Florida Water Management District (District), and Miami Super Bowl Host Committee's Ocean To Everglades Initiative.
What: Florida Python Challenge™ 2020 Python Bowl Awards Celebration. Python Bowl participants and the public will gather to learn the results of the competition. The FWC and the District will announce the winners of this one-of-a-kind competition that supports the delicate Greater Everglades Ecosystem by encouraging the humane removal of these nonnative snakes that are decimating our native species. The event will include:
Announcement of winners for each category, including most, longest and heaviest pythons in the pro, rookie and veteran/active duty categories.
Awarding of prizes including two 570 Tracker Off Road ATVs provided by Bass Pro Shops.
Drawings for additional prizes.
State experts on nonnative fish and wildlife and Python Bowl participants and winners will be available for media interviews.
Where: Bayfront Park, Miami: Super Bowl LIVE Huddle Down Stage. Gate 15 is the media entrance at Super Bowl LIVE where media must present their NFL media credential or their regular media credential to gain access. Please keep in mind that the media entrance is the only way to enter the park with gear (i.e., tripods and cameras). If you enter through the general entrance, gear will not be permitted.
When: Saturday, Jan. 25, 2:30 to 3:30 p.m.
Why: To recognize the winners of the Python Bowl and thank all participants for their involvement. Every python removed is a victory for Florida's native wildlife. The pythons removed and the awareness raised by the event will help protect Florida's Everglades habitats, as well as the animals that live there, from invasive Burmese pythons.
Background: The Florida Python Challenge™ 2020 Python Bowl is a conservation effort that includes public outreach on invasive pythons and a 10-day competition to remove Burmese pythons from public lands in south Florida. The aim of the 2020 Python Bowl is to engage the public in participating in Everglades restoration through invasive species removal. Details are available athttps://flpythonchallenge.org/.
KNOW BEFORE YOU GO: Important guide on attending Super Bowl LIVE. Includes road closure information, parking and more.