DYK: 2023 Florida Python Challenge® Takes Place Aug. 4-13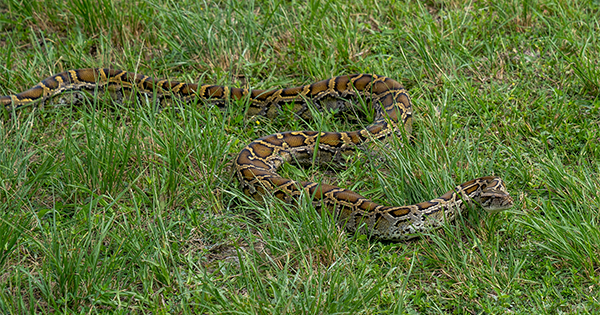 Invasive Burmese pythons are one of the most destructive and harmful species in America's Everglades. They threaten our precious native ecosystem by preying upon the wildlife that lives there, including wading birds, mammals, and other reptiles.
Did you know the 2023 Florida Python Challenge® continues to advance efforts to remove invasive pythons and raise awareness about the threat they pose to Florida's ecology?
The 2023 Florida Python Challenge® will take place August 4-13, 2023 and will allow both professional and novice participants the opportunity to join in the effort to remove pythons from the Everglades ecosystem. The annual 10-day competition and conservation effort is a partnership between the Florida Fish and Wildlife Conservation Commission (FWC) and the South Florida Water Management District (SFWMD) that promotes the protection of native wildlife through the removal of Burmese pythons.
Since 2019, the state has taken unprecedented action to protect the Everglades and eliminate invasive pythons from across the landscape. This focused commitment has accounted for more than half of the 18,000 pythons removed from the Everglades since 2000.
The SFWMD is removing about 60 percent more pythons each year under the leadership of Governor Ron DeSantis.
Governor DeSantis directed FWC and the Department of Environmental Protection (DEP) to allow for the removal of pythons from all state parks. The agencies entered into an agreement that resulted in an additional 134,648 acresof land that are now accessible for python removal.
The U.S. Department of the Interior granted Florida's request to increase access to federal lands for python removal, particularly within the Big Cypress National Preserve.
Working together to eliminate harmful pythons is making a difference to protect the Everglades and South Florida's diverse and native wildlife. When these destructive snakes aggressively prey on native Florida species, they rob panthers, raptors, bobcats, and other native predators of their primary food sources.
Learn more about the 2023 Florida Python Challenge® and continued efforts to eliminate invasive pythons.