Aquifer Storage and Recovery
Aquifer Storage and Recovery (ASR) facilities have been used in Florida and throughout the United States for about 40 years. ASR facilities inject and recover treated and untreated groundwater, partially treated surface water and reclaimed wastewater. ASR technology can store more water than a typical aboveground reservoir. An ASR system also can provide large volumes of water over longer periods of time, increasing water supplies during seasonal and multi-year droughts.
Most ASR facilities in Florida store water in the upper Floridan Aquifer, primarily in areas where the aquifer is brackish or somewhat salty. The injected fresh water displaces brackish water in the aquifer to form a "freshwater bubble," that may be highly irregular in shape.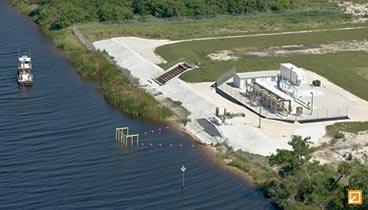 CERP ASR Regional Study (Updated June 2015)
As part of the Comprehensive Everglades Restoration Plan (CERP), the District and the U.S. Army Corps of Engineers have been investigating the use of ASR for water storage to benefit the Everglades and other natural systems in South Florida. The jointly developed ASR Regional Study documents the results of more than a decade's worth of scientific and engineering investigations and will serve as a technical guide when considering ASR as part of future Everglades restoration efforts.
The study incorporates results from two pilot ASR projects successfully constructed and tested along the Kissimmee River and the Hillsboro Canal. The study also includes results from numerous regional investigations conducted by a multi-agency, multi-disciplinary team of scientists and engineers to address technical uncertainties.
The National Research Council (NRC) released a peer review of the draft study in April 2015, concluding that it "significantly advances understanding of large-scale implementation of ASR in South Florida." An incremental adaptive restoration approach for ASR may involve one or more clusters of five ASR wells to address critical uncertainties such as recovery efficiencies, performance, long-term water quality and ecological effects.
 
Regional Study Links