SFWMD Restores Historic Equipment on Display in Palm Beach County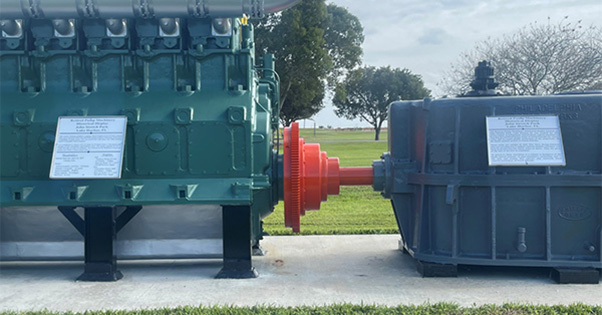 The South Florida Water Management District (SFWMD) operates 89 pump stations to move water throughout South Florida. These pump stations are one of the most important tools used by water managers to ensure the regional water management system operates smoothly and efficiently for our communities and the environment.  
Did you know that the SFWMD recently completed the restoration of historic pump station equipment at ​​​​​​​​John Stretch Park in western Palm Beach County? This historic equipment from the 1950s was used to provide flood control throughout South Florida.
The display offers the public the opportunity to get an up-close view of several pieces of retired equipment and learn more about the historical significance of the machinery.  
Managing the District's pump stations and engines is no small task. The park's historic display stands as a testament to the hard-working men and women of the SFWMD who ensure the continued operations of our regional water management system. The District's highly skilled pump station operators, water managers, field operations staff and many other talented employees work from Orlando to the Florida Keys to manage water throughout South Florida.  
Learn more about flood control throughout the District's 16-county region, and be sure to stop by John Stretch Park and check out the equipment the next time you're in western Palm Beach County.