How Digging Up an Old Road Helps the Everglades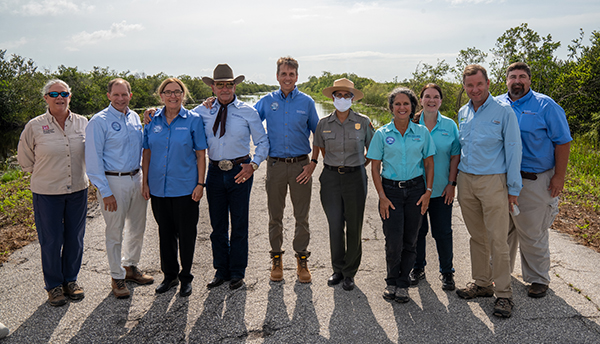 Today Gov. Ron DeSantis joined the South Florida Water Management District to celebrate the completion of an important milestone for Everglades restoration: the removal of nearly six miles of the Old Tamiami Trail roadbed! 
Did you know that Florida's Tamiami Trail (US 41) consists of 275 miles of scenic historic highway and was built in the early 1900s to connect Tampa and Miami?Its construction effectively created a dam across the Everglades that disrupted the ecosystem's delicate hydrology and historic southerly sheet flow of water from Lake Okeechobee through the Central Everglades and into Florida Bay.
The removal of leftover road from the Old Tamiami Trail is a crucial Everglades restoration project located in the southern Everglades in Miami-Dade County. Removal of the nearly six miles of now-unused roadbed began in March 2021 and was just completed – six months ahead of schedule! This project is also one component of the Central Everglades Planning Project (CEPP) and the larger Comprehensive Everglades Restoration Plan (CERP).
The suite of Everglades restoration projects found in CEPP, including this one and the Everglades Agricultural Area (EAA) Reservoir Project, will help deliver additional clean water from Lake Okeechobee south to Central Everglades, Everglades National Park and Florida Bay. 
Benefits of the removal of the Old Tamiami Trail Roadbed Project include:
Restoration of ecologically important sheet flow south through the Everglades.
Increased flows of freshwater into the Northeast Shark River Slough area of Everglades National Park by more than 220 billion gallons per year. 
Improved water quality in the freshwater that is sent south.