Discover the Backstory of the Corkscrew Regional Ecosystem Watershed (CREW)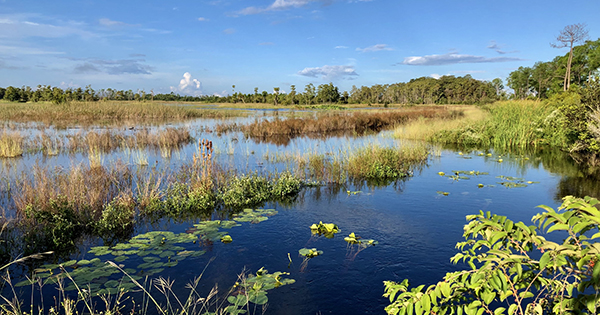 Did you know the Corkscrew Regional Ecosystem Watershed (CREW) is a 60,000-acre watershed in southwest Florida – the largest intact watershed of its kind in the region? CREW lands are located between Lee and Collier counties and provide natural flood protection, water filtration and critical aquifer recharge. With many distinct natural communities, including marsh, cypress and maple swamp, oak hammock and pine flatwoods, CREW also provides crucial habitat for Florida's native wildlife such as the swallow-tailed kite, black bear, and Florida panther.
When different entities filed to protect separate land parcels for conservation under the Save Our Rivers Program in 1989, the South Florida Water Management District found that two parcels were adjacent to each other and upon further study and inspection, discovered that there was an even larger undisturbed watershed system in southwest Florida that needed saving. The CREW Land & Water Trust was later formed by a group of concerned citizens in the region to help coordinate the management and purchase of the additional acreage – and today, over 55,000 acres of the 60,000 acre-project have been protected for conservation!
CREW is comprised of the following areas:
The South Florida Water Management District manages the land to restore water flow, remove exotic plants and animals, re-plant native vegetation and create opportunities for public recreation, that led to the creation of four hiking trails within CREW: The CREW Marsh Trails, the Cypress Dome Trails, Bird Rookery Swamp Trails, and the Billy G. Cobb Memorial Trail at Flint Pen Strand.
The South Florida Water Management District partners with the CREW Land & Water Trust to provide the majority of public education and outreach programs, as well as research and monitoring; and the Florida Fish and Wildlife Conservation Commission provides law enforcement and wildlife management on the CREW properties. It is truly a cooperative effort.