Celebrating Unprecedented Progress on Everglades Restoration and Water Quality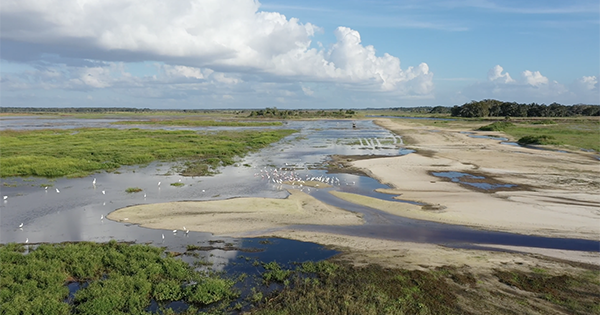 The South Florida Water Management District, along with our local, state and federal partners, works on the largest ecosystem restoration project in the world: Restoring America's Everglades. Did you know that our historic progress will protect the Everglades for future generations and support the ecological health of South Florida's natural resources?

With historic support from Gov. Ron DeSantis and the Florida Legislature, the South Florida Water Management District continues to accelerate key projects that focus on Everglades restoration and improving and maintaining water quality in Florida. Completing these projects is vital to our mission of safeguarding and restoring South Florida's water resources and ecosystems, protecting our communities from flooding, and meeting the region's water needs while connecting with the public and stakeholders.
Some of the major milestones in 2021 include:
Expediting the EAA Reservoir Project! Blasting and excavation of the Stormwater Treatment Area (STA) cell canals, and STA levee construction began over the summer.
Broke ground on the construction of the 8.5 Square Mile Area Seepage Wall, which will keep water in Everglades National Park and support increased flows of water south.
Completed removal of Old Tamiami Trail roadbed that acted as a dam and prevented the natural sheet flow south into Everglades National Park.
Continued progress on the Lake Okeechobee Watershed Restoration Project, including initial testing of water quality treatment technologies for the aquifer storage and recovery (ASR) wells and progress to advance the wetland restoration components.
Began using the Faka Union Pump Station, an important part of the Picayune Strand Restoration Project, which will restore surface water flow to vital wetlands and provide a lot of environmental benefits.
Completion of the C-44 Reservoir and Stormwater Treatment Area, which now enters operational and pump testing prior to full operations beginning.
Advancing the Caloosahatchee (C-43) Reservoir. This project will store large amounts of water and reduce the volume of harmful Lake Okeechobee discharges to the Caloosahatchee Estuary during the wet season, while providing beneficial freshwater flows to the estuary in the dry season.
Completed the Kissimmee River Restoration Project, a monumental achievement. This project restores more than 40 square miles of the river floodplain ecosystem, 20,000 acres of wetlands, and 44 miles of the historic river channel. The Kissimmee River Restoration Project is vital to restoring the Greater Everglades ecosystem.
Thanks to the hard work of South Florida Water Management District staff, we're proud to celebrate these and more projects that were advanced in 2021. We see a bright future ahead and are excited to see this momentum continue to grow in 2022 and beyond. Make sure you are following SFWMD on social media for all of the latest news on Everglades restoration.