The District's Comprehensive Water Conservation Program (CWCP) is a combination of voluntary and incentive-based initiatives, regulatory work, and education. As a result of passive measures, such as efficiency improvements in water using appliances, and the implementation of action items from the CWCP, the amount of water used by the region's 9 million residents has fallen from near 180 gallons of water per person per day in 2000, to about 128 gallons in 2020. Programs and initiatives from the CWCP include:
Resources for Local Governments
To assist local governments educate their residents and businesses on their allowable irrigation times, the District has created the following items.
Download these assets for free by clicking HERE. 
Please Note: The door hangers and the local government fact sheets can be customized with your county/municipal logo.
When printing the door hangers, please use Card Stock, 4-1/4" x 11", 2 Per Card
Basic water conservation practices include:
Watering your lawn based on its actual needs and following the District's year-round landscape irrigation water conservation measures and/or local ordinances
Installing water efficient, ENERGY STAR labeled appliances,
Installing WaterSense labeled high-efficiency water fixtures, such as showerheads, toilets, and kitchen and bathroom faucet aerators.
Implementing many more easy water conservation practices found in our Water Conservation Publications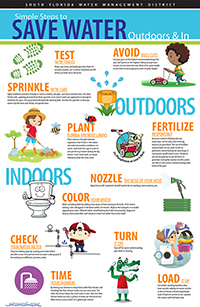 HOW MUCH WATER DO YOU USE EACH DAY? COMPUTE YOUR WATER USE
Click here to Compute Your Water Use with our Water Conservation Calculator