Storm Update: Watch Final Update on District's Response to Tropical Storm Isaias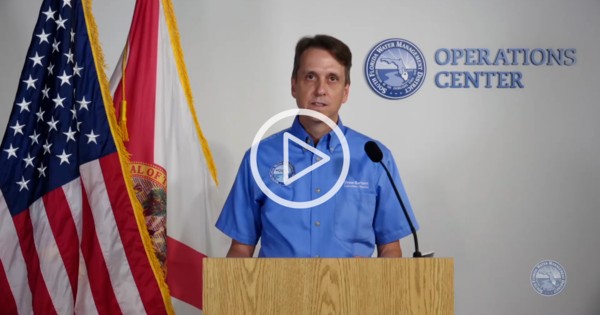 Watch the final update on Tropical Storm Isaias from SFWMD Executive Director Drew Bartlett.      
Tropical Storm Isaias passed the region this weekend, and the South Florida Water Management District (SFWMD) returned its regional flood control system and other District functions to normal operations. SFWMD Executive Director Drew Bartlett gave a final video update today on the storm's impact on South Florida.  
Current Operations after Tropical Storm Isaias Passed South Florida
SFWMD Emergency Operations Center returned to "Seasonal Readiness" for future storms.
All navigational locks are operating during their normal hours of operations. Learn more at SFWMD.gov/Navigation.
All recreational lands remain open. Learn more at SFWMD.gov/Recreation.
Actions Taken Prior to Tropical Storm Isaias Impacting South Florida
Lowered canals based on forecasts.  
Staffed pump stations and control rooms to manage water and ensure continued operations throughout the storm.   
Prepared response crews to deploy once Hurricane Isaias passes. 
Closed SFWMD-managed navigation locks. 
Continued monitoring and adjusting flood protection gates and pumps in response to the forecast and rainfall.  
Prepared Dispersed Water Management projects ("water farms") to store excess stormwater. 
Urged local governments and local drainage districts to prepare their systems for increased stormwater and to drain excess stormwater into District-managed canals.
Floridians are urged to remain vigilant during hurricane season and have their hurricane plan and supplies ready. Learn more at FloridaGetAPlan.com. Continue to monitor SFWMD's Facebook and Twitter for the latest updates on District operations.  
      Media Resources (Available for use and broadcast)