SFWMD Releases Annual Wading Bird Report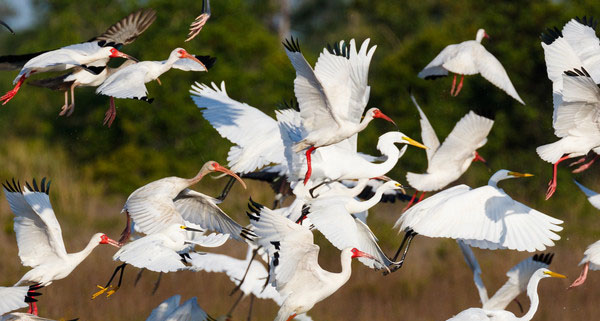 Approximately 37,000 wading bird nests were initiated during the year, according to the 2019 South Florida Water Management District Annual South Florida Wading Bird Report. Wading birds, one of the bellwether species used by scientists to gauge the overall health of ecosystems, are studied each year to count the number of nests and determine the success of their nesting activity. 
"This year is a below average year for nesting activity, however even in historical pre-drainage conditions this would have been a below average year because of natural conditions," said SFWMD Dr. Mark Cook, lead editor of the wading bird report. "We know that our restoration projects are actively benefitting wading birds and the environment, and we expect long-term improvement as additional restoration efforts are completed."
The report shows that three of the four wading birds species studied by SFWMD, including the Great Egret, the White Ibis and the Wood Stork, continue to meet their three-year average targets prescribed in the Comprehensive Everglades Restoration Plan. It also shows that 42 percent of all nests found were in coastal areas, a region where scientists have been trying to restore nesting for years. Five to 10 years ago, as little as ten percent of all nests were found in these areas.  
Learn more
---