SFWMD Governing Board Declares April Water Conservation Month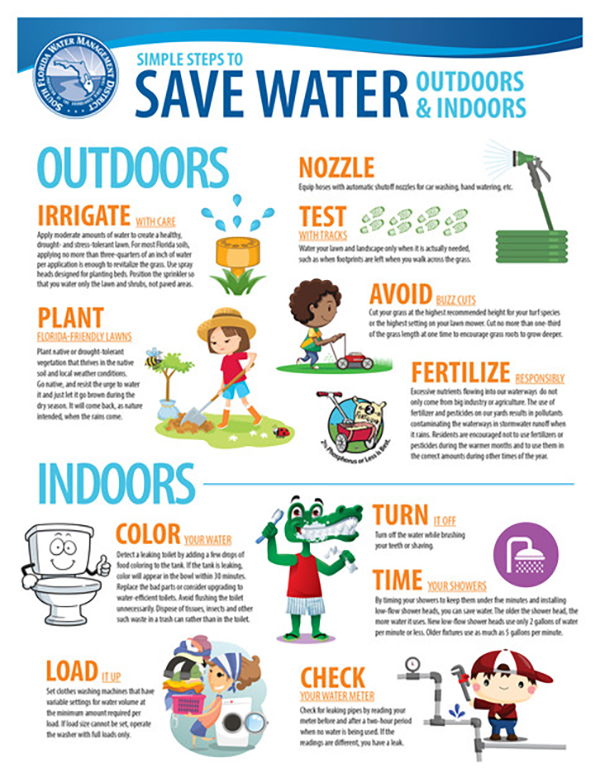 The South Florida Water Management District (SFWMD) Governing Board declared April as Water Conservation Month, highlighting the work District staff do promoting the conservation of South Florida's most precious resource, water.
Every gallon conserved is a gallon not pulled from underground aquifers which allows us to have enough water supply for the future and hold back saltwater intrusion from sea-level rise. Conserving water is important to ensure that families, businesses and the environment continue to thrive.
South Florida's population is forecasted to exceed 10 million people and its daily demand for water is forecasted to surpass 4 billion gallons per day by 2040, making the need for water planning and robust water conservation programs more important than ever.
Landscape irrigation accounts for more than half of the water used in a typical household. To promote more efficient irrigation, the District previously passed a year-round Landscape Irrigation Measures Rule that limits the days and hours allowed for landscape irrigation. District officials have been working with local governments to pass local irrigation ordinances to conserve water, with 80 having adopted the ordinance and 17 having an adoption of the ordinance in progress. Following all local ordinances governing outdoor landscape irrigation is one of the most significant contributions residents can make to conserve water.  
The District also supports water-saving programs and helps fund cost-sharing grants for water conservation projects. This year SFWMD is funding $2.5 million worth of such grants that will help conserve an estimated 1.1 billion gallons per year.
The average water usage per person per day in South Florida has decreased drastically in the past 16 years, from nearly 170 gallons per person per day in 2005 to approximately 130 gallons per person per day in 2021. This is in part a result of water conservation programs and measures implemented throughout the district.
Learn more about SFWMD and watch its Governing Board meetings