SFWMD Completes S-333N, Priority Everglades Project to Send More Water South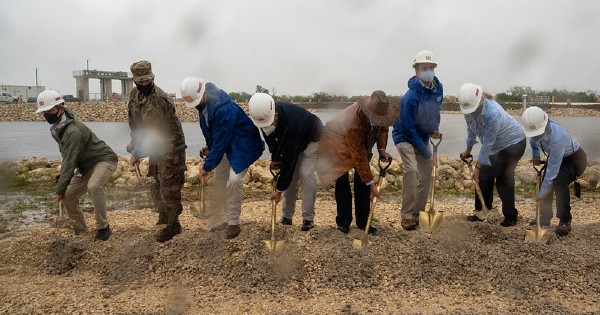 MIAMI - Gov. Ron DeSantis joined the Florida Dept. of Environmental Protection, South Florida Water Management District (SFWMD), U.S. Army Corps of Engineers (USACE), and other state and federal officials today to celebrate the completion of the S-333 North (S-333N) structure, the latest Everglades restoration accomplishment. 
"My administration has prioritized the protection and restoration of Florida's environment and natural resources," said Governor Ron DeSantis. "That's why we've invested nearly $800 million for Everglades restoration projects and have worked to reduce harmful discharges to our estuaries and send more water south. I was honored to attend today's groundbreaking and I thank the men and women who work every day to keep Florida's environment pristine." 
"This is just what the Everglades needs, and today's celebration is only possible because of Gov. DeSantis' leadership for the Everglades and our environment," said SFWMD Governing Board Member "Alligator" Ron Bergeron. "Saving the Everglades is all about sending water south. Projects like the S-333N and entire CEPP South suite of projects help restore the historic flow of water. By sending more water south we can rehydrate Everglades National Park, deliver more fresh water to Florida Bay, and eliminate high water conditions in the Central Everglades that hurt our wildlife and plant communities."  
"Under the leadership of Governor DeSantis, DEP and the South Florida Water Management District are working to expedite not only critical reservoir projects, but projects that remove barriers to sending more water south to Everglades National Park and Florida Bay where it is needed most," said DEP Secretary Noah Valenstein. "The S-333N is a shining example of these efforts. The unprecedented commitment by the state enabled this project to be completed in under two years."
The S-333N structure, adjacent to the existing S-333 water control structure about 35 miles west of Miami, doubles the amount of water that can be moved south through that area out of the Central Everglades (Water Conservation Area 3A) and into Everglades National Park. The S-333N structure will work together with other critical Everglades restoration projects including the EAA Reservoir Project to decrease harmful estuary discharges and deliver more flows of water south. 
The structure can also be used during high water emergency situations and prevent high water conditions and wildlife drownings in the Central Everglades (Water Conservation Areas). 
S-333N is one of 29 priority environmental restoration projects identified by Gov. DeSantis after he took office with his Achieving More Now For Florida's Environment Executive Order. This order directed SFWMD and other state agencies to work together to expedite the completion of Everglades projects that improve the flow of water south and reduce damaging discharges to the northern estuaries. In addition to advancing the completion of ongoing projects such as the Everglades Agricultural Area (EAA) Reservoir Project and the Caloosahatchee Storage Reservoir, SFWMD, USACE and other agencies have completed several of these priority projects including: 
The expansion of treatment wetlands to increase the ability to treat and send clean water south to the Everglades. 
The completion of bridges to raise sections of Tamiami Trail in Miami-Dade County allowing more water to flow south to Everglades National Park and Florida Bay. 
The completion of several Dispersed Water Management projects. These public-private partnerships allow interim water storage while larger infrastructure is built. 
"Under the Governor's leadership and with our state and federal partners, we are getting a lot done for Everglades restoration and moving Everglades projects forward as fast as possible," Bergeron added. "S-333 North along with the other CEPP South projects are so crucial to the overall success of all Everglades restoration." 
Multimedia