SFWMD Celebrates Groundbreaking of C-139 Flow Equalization Basin in Hendry County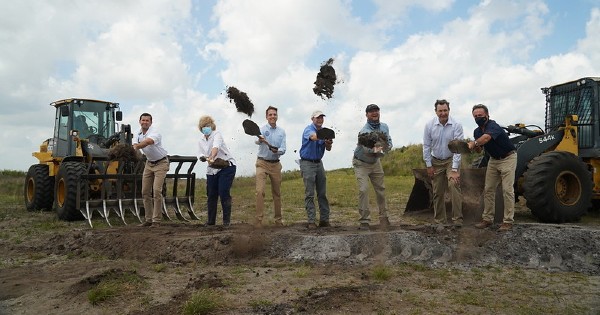 Jason Andreotta (DEP), Mayor Kristine Petersen (Clewiston), Director Drew Bartlett (SFWMD), Chairman Chauncey Goss (SFWMD), Commissioner Karson Turner (Hendry County), Andres Mendoza (Condotte America), Joseph Burke (Ryan Southern Inc). 
The South Florida Water Management District (SFWMD) celebrated the groundbreaking of the C-139 Flow Equalization Basin (FEB) in southeast Hendry County this morning. SFWMD officials were joined by the Florida Department of Environmental Protection, local partners, stakeholders, and the public, to celebrate the groundbreaking. Condotte-Ryan, JV is the prime contractor building the project.
"Moving water south is critical to saving America's Everglades," said SFWMD Governing Board Chairman Chauncey Goss. "Under the leadership of Gov. Ron DeSantis, we are full-steam ahead on projects like the C-139 Flow Equalization Basin that will help restore the River of Grass and send water south into Everglades National Park, where it is needed most."
"We're really proud to be a part of the important Everglades restoration work by the South Florida Water Management District," said Andres Mendoza, President of Condotte America, representing Condotte-Ryan, JV. "Condotte America and Ryan Incorporated Southern have been doing business in south Florida for almost 40 years and we are excited to be working together in this joint venture. This project provides job opportunities in the region, and once complete, will be a great benefit to the environment. We thank Governor Desantis and the District for continuing with these types of projects and classifying this work as essential to the State."
The C-139 FEB, an 11,000-acre shallow storage feature, will store water in the C-139 Basin and control the flow of water to the adjacent Stormwater Treatment Area (STA) 5/6. The FEB will help improve the performance of STA 5/6, remove nutrients from stormwater, and improve water quality.
C-139 FEB Project Elements include:
8.8 miles of Perimeter Embankments
2.4 Miles of Internal Embankments
3.8 Miles of New Seepage Collection Canal
Inflow Pump Station
Outflow Structure
Seepage Discharge Structure
Replacement of the G-711 Water Control Structure
C-139 FEB Project Benefits include:
Removes Nutrient Pollution
Improves Water Quality Before It Flows South to Everglades National Park
Increases Water Storage
Improving the Effectiveness of Stormwater Treatment Area 5/6
Creates Public Recreation Opportunities
The project is expected to be complete in 2023. SFWMD continues to advance important Everglades restoration projects that will send more water south, reduce harmful discharges, and improve water quality in South Florida.
Multimedia