SFWMD Activates Faka Union Pumps at Picayune Strand State Forest in Southwest Florida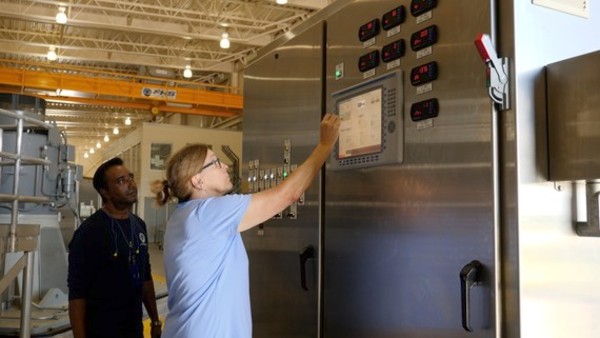 SFWMD Governing Board Member Charlette Roman activates the Faka Union Pumps
The South Florida Water Management District (SFWMD) reached a major milestone for the Picayune Strand Restoration Project in unincorporated Collier County and began using the Faka Union Pump Station for the first time last week. This pump station, coupled with other restoration activities, works to rehydrate drained wetlands in the Picayune Strand State Forest and restore the area's natural sheet flow.
"In the 1960s, a developer dug canals to drain the land and constructed miles of shell-rock roads, destroying the natural habitat," said SFWMD Governing Board Member Charlette Roman. "Under the direction of Gov. Ron DeSantis to expedite Everglades restoration, the water management district has worked with its partner, the U.S. Army Corps of Engineers (USACE) to expedite the filling of some of those canals. Now we can restore the hydration and ecosystem of this beautiful natural treasure."
This past dry season, the USACE completed the backfilling of 3.3 miles of canals in the north central region of Picayune Strand. Now, with sufficient water supply from the region, SFWMD is using the Faka Union Pump Station for the first time ever to pump up to 2,650 cubic feet per second (cfs) of water into a large spreader basin. The basin fills up and allows water to flow naturally through the area and restore its natural state of hydration.
Rehydration of these wetlands supports wildlife habitat, water quality improvements, and overall ecosystem restoration efforts in the region. SFWMD has been working with the USACE for years on the Picayune Strand Restoration Project, which is part of the Comprehensive Everglades Restoration Plan (CERP). 
In the 1960s, more than 85 square miles of wetlands in western Collier County was drained for a failed real estate development called Southern Golden Gate Estates. Road construction and canal excavations severely impacted the area, reducing aquifer storage, increasing freshwater discharges to estuaries in the Ten Thousand Islands, disrupting native plant communities, and increasing the frequency of wildfires.
The Picayune Strand Restoration Project restores surface water flow to these vital wetlands and supports numerous environmental benefits including: 
Restored and enhanced habitat for fish and wildlife;
Reduced drainage of adjacent sensitive ecosystems;
Improved aquifer recharge to protect underground water supplies and
prevent saltwater intrusion;
Reduced freshwater releases/improved health of downstream estuaries; and
Increased recreational opportunities
The Picayune Strand Restoration Project is a partnership with the U.S. Army Corps of Engineers and is expected to be completed by 2025. The restoration effort is one of dozens of projects Gov. DeSantis directed SFWMD and its partners to expedite with his Achieving More Now For Florida's Environment Executive Order as soon as he took office in 2019. 
Click HERE To learn more about SFWMD's efforts to advance these priority projects
Historic Start Up of Picayune Pump Station from SFWMD on Vimeo.
Watch this video recap covering this historic milestone.