Hurricane Nicole: Director Drew Bartlett Provides Update on Response Efforts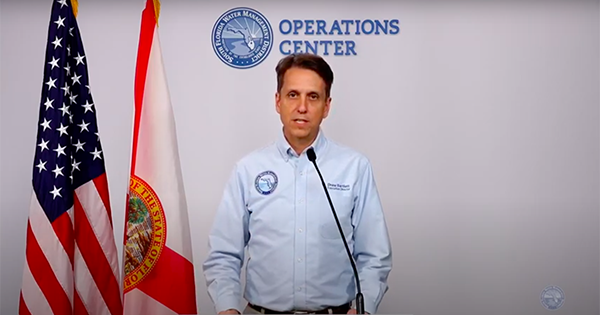 South Florida Water Management District (SFWMD) Executive Director Drew Bartlett provided an update this afternoon from the SFWMD's Emergency Operations Center on the District's response efforts for Hurricane Nicole.
The storm brought an average of 2-3 inches of rain in the northern portions of SFWMD's boundary. Regional water management systems responded well to the rainfall as it passed through the SFWMD region in the last 24 hours. No major issues were reported during the storm.
District Response Actions
Inspecting canals and water management infrastructure.
Continuing to coordinate with local governments and local drainage operators on local flood relief efforts. 
Re-opened all SFWMD navigation locks except for S-310 in Clewiston, which will open at 2:00 p.m. today and S-61 in Osceola County, which will remain closed until further notice. For the latest information on lock operations, visit SFWMD.gov/Navigation.
Inspecting SFWMD-managed lands in Orange, Osceola, Polk, Highlands, Okeechobee, Glades, Hendry, St. Lucie, Martin and Palm Beach counties. These lands remain closed at this time and will be opened as soon as possible. 
SFWMD's Emergency Operations Center remains at Level 1 - Full Activation. 
Residents are reminded to continue to monitor information from their County's Emergency Operations Center, and SFWMD will continue to provide updates on its emergency operations.
Visit SFWMD.gov for more information and continue to follow SFWMD on Facebook and Twitter for the latest updates on our operations.
Media Resources