Hurricane Ian Update: Director Drew Bartlett Provides Update on SFWMD's Ongoing Response Efforts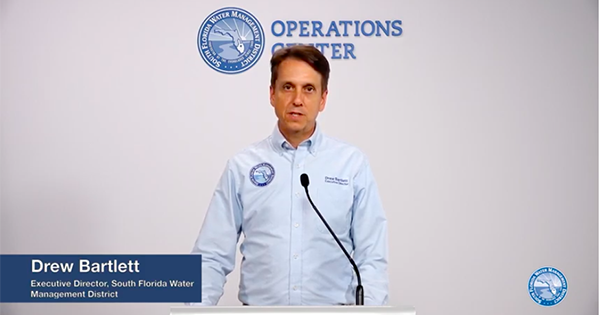 South Florida Water Management District (SFWMD) Executive Director Drew Bartlett provided an update this afternoon from the SFWMD's Emergency Operations Center on the District's ongoing response efforts to Hurricane Ian.
District Actions
Continuing to work in partnership with Osceola County and Orange County to reduce flows of water into the regional lake system and provide relief to impacted communities.  
Deploying high volume pumps at very strategic locations and many more pumps are being staged and getting ready for operation. 
Continuing to work with Lee County to remove debris out of the drainage system. 
Continuing to coordinate with our local, state and federal partners including FEMA to support local recovery efforts. 
Re-opened six navigational boat locks in Glades, Hendry, Martin and Okeechobee counties. 
Using water control structures and other navigational locks at full capacity to move water away from communities. 
Re-opened SFWMD-Managed Lands in Hendry, St. Lucie, Martin, Palm Beach, Broward and Miami-Dade Counties today at 5:00 pm. All other SFWMD-Managed Lands will remain closed for safety purposes. 
Keeping the SFWMD's Emergency Operations Center at Level 1, Full Activation. 
Residents in Southwest and Central Florida are reminded to avoid floodwaters. If you see floodwaters, turn around and find an alternate route. 
SFWMD will continue to keep the public informed on its emergency operations. Continue to follow SFWMD on Facebook and Twitter for the latest updates on our operations.
Media Resources
Interviews with water management officials may be coordinated with Jason Schultz at jschultz@sfwmd.gov.