Citizen Science: How You Can Help SFWMD Identify Species On District Lands
Brian Garrett, SFWMD Wildlife Biologist
Biologists are often approached by people asking them to identify animals and plants they have photographed with their phones. Most biologists love helping others to identify these organisms because it's fun to share their knowledge and bond over a common interest – but did you know that it's possible to have the expertise of a biologist at your fingertips?
There are several mobile apps that help citizen scientists identify birds, snakes, trees, mushrooms and even animal tracks. Some of the more popular apps that help users quickly identify an organism include Google Lens, iTracks, iBird, Song Sleuth, Merlin Bird ID, and PlantSnap; some of these apps are free, while others cost money.
The app we'll be focusing on today is named iNaturalist. However, iNaturalist is more than just an app, it's a place where users can interact with an entire community of both amateur and professional naturalists who catalog their sightings and contribute to the documentation of an organism's habitat, range and other information.
SFWMD land managers can use the information captured by the public to help supplement their knowledge about what species occur on the District lands they manage; arming them with more information to make decisions and account for those species in the District's Land Management Plans.
The SFWMD Land Stewardship team has coordinated with the Information Technology team to ensure that many District-managed public lands are listed as "Projects" in iNaturalist. This means that SFWMD land managers can view saved iNaturalist observations from a specific property to generate a species list from this data. For example, if a land manager sees that an invasive plant in an area was recorded by multiple users, they can obtain the GPS coordinates of the observation location, see it for themselves and then take appropriate next steps to address the issue. 
We hope that you'll consider creating an iNaturalist account to document the species you encounter on District-managed public lands during your next adventure!
Ready to jump in? I've created a brief guide below to help you get started on iNaturalist. 
Create an account on iNaturalist.org and download the free app for your mobile device. Sign in and you're up and running. (Side note: Make sure that both camera and location data access are enabled for the iNaturalist app on your device.)
Once you've found an organism to identify, use the camera in the iNaturalist app to snap a clear photo. Alternatively, you can upload a photo taken with your phone's camera app. 
Upload the photo as an "Observation." Observations can also be uploaded on the iNaturalist website too.
Once the photo is loaded, you'll be taken to the "Details" screen. The date that the photograph was taken should automatically fill. 
The location will automatically fill in if you have enabled location access on your device. If the location doesn't appear automatically, you can tap on the location icon in iNaturalist and zoom in to pinpoint the location on a map where you took the photo. 
This is the fun part. Tap the "What did you see?" portion of the "Details" screen. The app will try to identify what you photographed and give you the best option(s) based on your location. You can tap the "Information" button next to the suggestions to get more information about each one. Finally, select the suggestion that looks best to you and share your observation with the iNaturalist community!
At this point, other iNaturalist users will evaluate your identification and can agree, or suggest another species. There must be agreement by two individuals for an observation to achieve "Research Grade" status, meaning that there is a higher level of confidence that this organism has been identified correctly. Reaching a "Research Grade" can occur quickly with some organisms, like birds, and it may take a long time with other organisms, like mushrooms.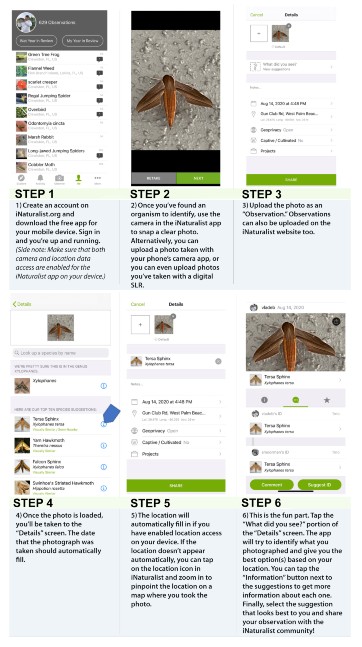 Click the image above for a step-by-step instructional guide. 
So, go sign up for iNaturalist! The next time you encounter a plant or animal and start wondering what it is, you will not have to wonder for long.