SFWMD Continues Response to Rainfall from Tropical Storm Eta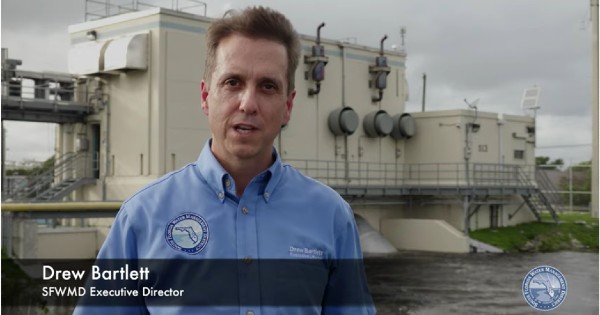 The South Florida Water Management District's (SFWMD) Emergency Operations Center remains partially activated for Tropical Storm Eta to respond to flooding in parts of South Florida. SFWMD Executive Director Drew Bartlett provided a video update today from S-13 Pump Station located in Broward County.
Continued Actions by SFWMD to Reduce Flooding:
Running pump stations around the clock to push water away from communities;
Staffing control rooms to manage canal and water control systems; and
Ongoing coordination with local governments and drainage districts. 
Tips for Residents:
Avoid floodwaters;
Monitor guidance from their county EOC;   
Know who to call to report flooding if flood waters get close to homes.    
Flood control throughout South Florida relies on a primary system that SFWMD operates and secondary and tertiary systems operated by local governments and drainage districts. It is normal to see lakes temporarily rise and water flowing through streets to drains.
SFWMD's system is operating as designed for the storm's rainfall. SFWMD continues to encourage all local governments and local drainage operators to monitor the storm and coordinate with SFWMD as needed.   
Residents throughout South Florida can find which local agency to contact about flooding concerns by visiting SFWMD.gov/FloodControl. Standing water and rising levels in lakes and ponds are normal during and after a storm. Continue to check SFWMD.gov, as well as SFWMD's Facebook and Twitter for the latest updates on operations by SFWMD.  
Media Resources (Available for use and broadcast):