Charlette Roman, Governing Board Member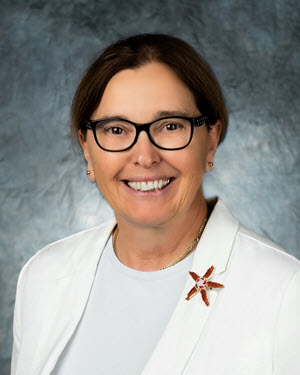 Charlette Roman was appointed by Governor Ron DeSantis in 2019 and serves as an at-large member of the South Florida Water Management District Governing Board and the Chair of the Big Cypress Basin Board.
Roman works hard every day to restore America's Everglades, improve water quality, protect the region from flooding and ensure an adequate water supply for millions of South Floridians. She also prioritizes public engagement and frequently meets community members and stakeholders throughout the area she represents.
Roman enlisted in the U.S. Army in 1973 and served for 26 years, retiring as a Colonel. Highlights of her career include command of an Airborne Signal Battalion at Fort Bragg, North Carolina, service as an Inspector General, and command of the U.S. Garrison, Fort Gordon, Georgia. After the fall of the Berlin Wall in 1989, she was one of the first U.S. military personnel present to witness East Germans crossing the Freedom Bridge in Berlin.  She is a graduate of the U.S. Armed Forces Staff College and the U.S. Army War College.
After her retirement from the military, Roman moved to Marco Island in Collier County and began contributing to her new community. She was appointed to the Marco Island Planning Board and later to the Collier County Planning Commission, was elected to the Marco Island Civic Association Board of Directors, and also served on the Collier Citizens Council and the Board of Directors, Marco Island Taxpayers Association. In 2016 Charlette was elected to the Marco Island City Council and served for four years.
Roman was drawn to southwest Florida by its natural beauty and wildlife, and is driven to protect this wonderful ecosystem. She became a certified Florida Master Naturalist and has volunteered more than 1,000 hours for the Rookery Bay National Estuarine Research Reserve. She also served as the President of The Friends of Tigertail Beach, a nonprofit conservation organization and was a founding Board Member of the Gulf Coast Orchid Alliance. In recognition of her educational and stewardship efforts, in 2009 she received the prestigious Collier County Audubon Society Fellowship. In 2022, she was honored with the Laverne Norris Gaynor Environmental Champion Award by the Rookery Bay National Estuarine Research Reserve Board of Directors for her years of service in protecting the coastal environment. 
Roman received a Bachelor of Arts Degree in Communications from Loyola University in New Orleans and a Master of Arts Degree in Business Management from Webster University.
She currently resides on beautiful Marco Island in Southwest Florida.
---
Current Term: 05/2021 - 03/2025
Phone: (561) 682-6262
Email: croman@sfwmd.gov
Areas Represented: Collier, Lee, Charlotte, Hendry, Highlands, Glades, Okeechobee, Orange, Osceola and Polk counties
Appointed By: Governor Ron DeSantis
Original Appointment: February 2019
Education:
B.A. Communications – Loyola University
M.A. Business Management - Webster University
U.S. Army War College
Contact Address:
SFWMD Governing Board
3301 Gun Club Road
West Palm Beach, FL 33406
Occupation: Retired Colonel, U.S. Army
Professional, Business and Service Affiliations:
Chair, Big Cypress Basin Board, 2019-Present
Member, Advisory Council of the Water School at Florida Gulf Coast University
Marco Island City Council 2016-2020, Vice-Chair 2017
Member Emeritus of the Collier Citizens Council  
Founding Board Member, Gulf Coast Orchid Alliance
Past Commissioner, Collier County Planning Commission At-Large Environmental Seat
Past Chair, Marco Island Planning Board 2015; Planning Board Member 2004-2006, 2013-2016.  
Past Member, Board of Directors, Marco Island Civic Association
Past Member, Board of Directors, Marco Island Taxpayers Association
Past 1000-hour Volunteer, Rookery Bay National Estuarine Research Reserve
Past President, Friends of Tigertail Beach
Past STEM Coordinator & Environmental Issues Chair, American Association of University Women, Marco Island AAUW Chapter
Past Volunteer, Florida Fish and Wildlife Conservation Commission