C-15 Canal Clearing Project to Improve Flood Protection in Palm Beach Co.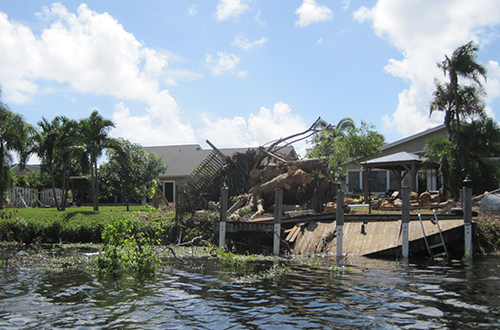 May 7, 2018
West Palm Beach, FL – To help ensure flood protection for hundreds of thousands of Palm Beach County residents, the South Florida Water Management District (SFWMD) will begin work this week to clear trees and overgrown vegetation from SFWMD-owned land along a stretch of the C-15 Canal bordering Delray Beach and Boca Raton in southern Palm Beach County.
Work on the half-mile first phase of the project from Dixie Highway to Brant Drive will begin this week, while the second phase comprised of work on another half-mile of the canal from Brant Drive to Interstate 95 is slated to begin at a later date.
The important tree clearing work is one of several ongoing canal clearing projects SFWMD is currently conducting to maintain its ability to protect 8.1 million residents from flooding throughout South Florida. The C-15 project comes after months of extensive efforts by the District to inform residents in the affected area about this public safety measure.
"Well-maintained and free-flowing canals are at the heart of our flood control system and a crucial component to protecting families and businesses from harm during and after storms," said SFWMD Governing Board Vice Chair Melanie Peterson. "By clearing District-owned canals of any obstructions, while informing residents of this critical work, this agency is preparing for what is reported to be a heightened hurricane season."
Unlike some other tree clearing projects where the canal banks are owned by private homeowners and the District operates with an easement over the property, the District owns 100 percent of the land along the banks of the C-15 Canal where the trees will be cleared. At least five different canals maintained by SFWMD or the Lake Worth Drainage District utilize the C-15 Canal to drain neighborhoods in Boynton Beach, Delray Beach, Boca Raton and unincorporated communities west of these cities.
---
SFWMD maintains more than 2,000 miles of canals from Orlando to the Florida Keys. Keeping them clear of debris and vegetation, especially on their banks, ensures the regional flood control system works to protect Florida families and businesses.