SFWMD Continues Actions to Move Water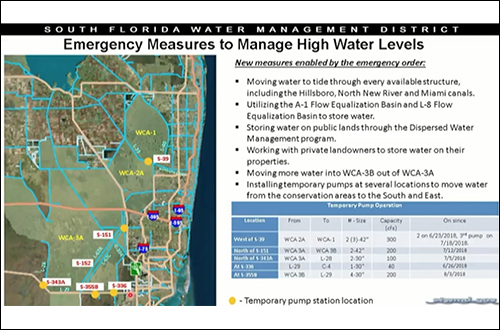 Sept. 13, 2018
West Palm Beach, FL – The South Florida Water Management District (SFWMD) has been working around the clock for months to lower water levels in the water conservation areas to create capacity for sending additional Lake Okeechobee water south, all in an effort to alleviate South Florida's high water emergency caused by record May rainfall and recent storms.
SFWMD Chief Engineer John Mitnik today gave the SFWMD Governing Board an update on current water conditions and efforts to move water. As part of SFWMD's weekly video series, the update can be seen by clicking HERE or visiting the District's website dedicated to the emergency situation at www.sfwmd.gov/managinghighwater.
In the video, Mitnik discusses current water conditions including rainfall for the month of August, which was about 21 percent, or 1.71 inches, below average. Mitnik also told the Governing Board how Tropical Storm Gordon dropped an average of 1.26 inches of rainfall across South Florida, with some areas in South Miami-Dade County, such as Homestead, receiving as much as 5 inches of rain.
The District coordinated with local drainage districts to help them prepare their systems for the storm. SFWMD also lowered canal levels in its regional flood control system in order to take stormwater from these local drainage districts and municipalities to protect families and properties from flooding.
With several more weeks of the wet season and hurricane season and several active storms in the Atlantic Ocean, SFWMD will take similar steps to prepare the system for future storms.
---
SFWMD Chief Engineer John Mitnik provides an update to the Governing Board at its Sept. 13 public meeting on current water conditions and actions to move water in South Florida.