Managing High Water Levels in the Wet Season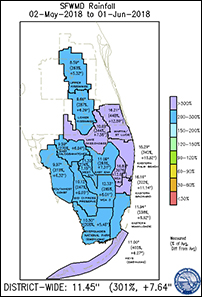 Following an emergency declaration from Gov. Rick Scott and an emergency order issued by the Florida Department of Environmental Protection (DEP), the South Florida Water Management District (SFWMD) is implementing an array of actions, in addition to other efforts that were already underway, to create capacity in the Everglades Water Conservation Areas (WCAs) and move water south from Lake Okeechobee. These measures, which would have been slowed by typical agency approval processes, are moving forward on an expedited basis to help reduce the severity of and need for regulatory releases that the U.S. Army Corps of Engineers (USACE) is making from the lake to the Caloosahatchee and St. Lucie estuaries.
South Florida's annual wet season got off to an intense start with 300 percent of normal rainfall across the region in May 2018, a record for the month. Locally, Martin and St. Lucie counties alone received 450 percent of the historical average for the month, with more than 16 inches of rain. This rainfall inundated the Water Conservation Areas and caused Lake Okeechobee to rise more than a foot. As a result, the USACE began making releases from the lake to the northern estuaries on June 1 for public safety.
This web page features weekly video updates on SFWMD's efforts to alleviate the current emergency situation and information on long-term solutions now under construction or being planned. In addition, you will find below details on how Florida agencies respond to blue-green algal blooms and red tide and links to the latest data for the regional water management system.
Weekly Video Operations Update
SFWMD Chief Engineer John Mitnik provides an update to the Governing Board at its Oct. 11 public meeting on current water conditions and actions to move water in South Florida.
Ongoing SFWMD actions include:
Using the S-5A Pump Station in Palm Beach County to move 400 cfs out of the L-8 Canal to prevent water from gravity flowing back into Lake Okeechobee.
Moving water to tide through every available structure, including the Hillsboro, North New River and Miami canals.
Using the S-34 Structure to move 200 cfs out of WCA-2A into the North New River in Broward County.
Operating temporary pumps at the S-151 Structure to move an additional 200 cubic feet per second (cfs) of water out of WCA-3A in Miami-Dade County, creating capacity in the conservation area to move water south.
Operating temporary pumps to increase the capacity of water that can be moved out of Water Conservation Area 3B into Shark River Slough and Everglades National Park by up to 200 cfs.
Moving more water into WCA-3B out of WCA-3A thereby reducing levels in WCA-3A.
Fully utilizing the A-1 Flow Equalization Basin and L-8 Flow Equalization Basin, both components of Gov. Scott's Restoration Strategies Plan, to store water.
Storing water on public lands through the Dispersed Water Management program.
Working with private landowners to store water on their properties.
News Releases, Videos and More
SFWMD Governing Board Committed to Restoration Projects to Benefit the Northern Estuaries
Over the long term, the SFWMD Governing Board is working with its federal partners at the U.S. Army Corps of Engineers to make steady progress on several ecosystem restoration projects throughout the agency's 16-county region. Now under construction or being planned, these projects will collectively send needed clean water south to the Everglades while reducing harmful lake releases to the northern estuaries and capturing local stormwater runoff – both of which are responsible for excess freshwater flows to the estuaries.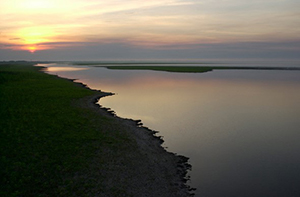 Lake Okeechobee Watershed Restoration Project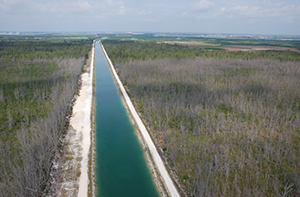 Central Everglades Planning Project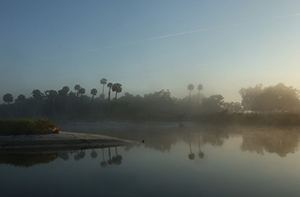 Kissimmee River Restoration
How Florida Agencies Respond to Blue-Green Algal Blooms
The Florida Department of Environmental Protection (DEP), the state's five water management districts, the Florida Department of Health (DOH), the Florida Fish and Wildlife Conservation Commission (FWC) and other state agencies all work together to respond to blue-green algal blooms. Each agency has a specific role:
DEP takes the lead in collecting and testing algal bloom samples as soon as they are observed. In addition, DEP staff can be deployed to take additional samples in response to blooms reported by citizens, other agencies or other sources. Sample results are reported to all appropriate agencies.
SFWMD helps DEP as requested with collecting algal bloom samples. The District also reports any blooms observed during routine water quality sampling.
DOH has the lead role when an algal bloom presents a risk to human health or there are reported health incidents associated with a bloom. DOH issues health advisories as it determines to be appropriate when toxicity levels are higher. It may also post warning signs when blooms affect public beaches or other areas where there is the risk of human exposure.
FWC investigates dead fish and wildlife related to algal blooms.
For more information:
Florida Department of Environmental Protection
Florida Department of Health
How Florida Agencies Respond to Red Tide
The Florida Fish and Wildlife Conservation Commission (FWC) is the lead state agency that monitors and responds to red tide, a naturally occurring microscopic alga that can be harmful to both marine organisms and humans. Red tide has been documented along Florida's Gulf Coast since the 1840s and occurs nearly every year. Blooms, or higher-than-normal concentrations, of the Florida red tide alga, Karenia brevis, frequently occur in the Gulf of Mexico.
FWC provides several resources for reporting on red tide and its effects:
For more red tide resources:
Florida Fish and Wildlife Conservation Commission
Florida Department of Health
Mote Marine Laboratory
Where is the Latest Data for the Northern Estuaries?
Using SFWMD's monitoring network and technical information, a wealth of data is available on this website for the District's 16-county region, including the Caloosahatchee and St. Lucie estuaries:
Data and Reports from U.S. Army Corps of Engineers
Caloosahatchee River
St. Lucie River