SFWMD Taking Additional Actions to Accelerate Lowering of Water Levels in Conservation Areas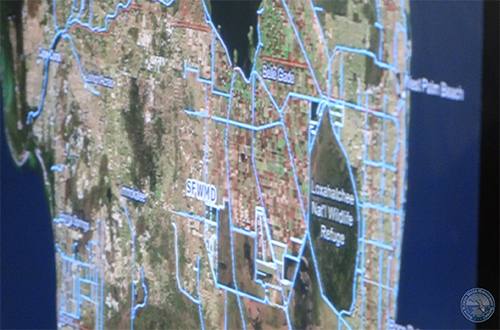 July 19, 2018
West Palm Beach, FL – The South Florida Water Management District (SFWMD) has been working around the clock to lower water levels in the conservation areas and create capacity for sending more Lake Okeechobee water south. By installing additional temporary pumps and taking other operational actions, the District is doing its part to mitigate the high water emergency caused by record May rainfall.
SFWMD Hydrology and Hydraulics Bureau Chief Akin Owosina gave an update on the District's operations through the agency's weekly video series dedicated to informing the public on current water conditions and the agency's actions amid the high water emergency. The video update can be seen by clicking HERE or visiting the District's website dedicated to the emergency situation at www.sfwmd.gov/managinghighwater.
The record rainfall in May caused Lake Okeechobee to rise more than a foot, which led the U.S. Army Corps of Engineers (USACE) to begin releases from the lake on June 1 to the northern estuaries. At the same time, this record rainfall inundated the water conservation areas, causing them to rise considerably above their regulation schedules. To combat this, SFWMD is taking every action within its authority to lower water levels, including storing water on public and private lands, utilizing every available structure and installing temporary pumps to move additional water.
SFWMD this week installed a third 42-inch temporary pump in addition to the two that were previously installed and pumping water from Water Conservation Area 2A in Broward County into Water Conservation Area 1 in Palm Beach County to be discharged to tide through the Hillsboro Canal.
On June 20, Gov. Rick Scott directed the Florida Department of Environmental Protection to issue an emergency order, which revised permitting criteria, thereby allowing the District to install several temporary pumps. These pumps, along with permanent structures, are currently being operated by the District 24 hours a day to move more water out of the conservation areas. To date, more than 350,000 acre-feet (approximately 114 billion gallons) of water has been moved out of the conservation areas, either to tide or into Everglades National Park.
---
Akin Owosina, SFWMD's Chief of the Hydrology and Hydraulics Bureau, provides an update on operations to move water across South Florida.